The number of burglaries in Kingston fell by half in March compared with the previous month because of the COVID-19 lockdown, Metropolitan Police crime statistics show.
Prime Minister Boris Johnson announced on the 23 March that the public should stay at home to prevent the spread of COVID-19 and to protect the National Health Service, meaning fewer houses were left unattended.
"On the whole people that commit burglaries do not want to meet people that are in the house. Therefore, people being home all the time means that it [burglary] is far less likely," said chief executive of Neighbourhood Watch John Haywood Cripps.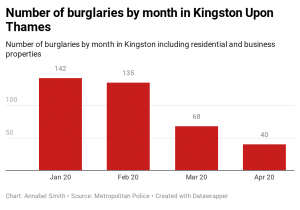 The number of burglaries has decreased monthly since January when anxiety surrounding coronavirus began to take hold in the UK.
In March the number of burglaries recorded in Kingston by the Metropolitan Police went from 135 in February to 68 in March after the government announced a UK wide lockdown. The number fell even further, to 40, in April.
Crime levels generally in Kingston have also decreased with a 25.14 per cent drop in crime in April compared with March as the lockdown has presented more obstacles for criminals to navigate around.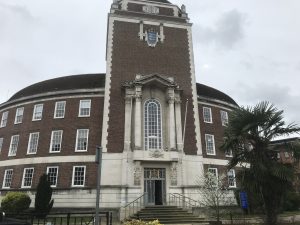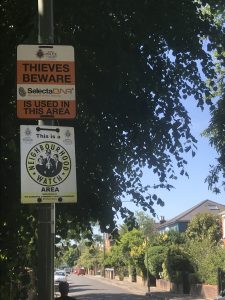 "This [decrease] is linked to more people being at home and those not at home being more conspicuous because of the current restrictions," said Kingston Council.
Burglars may also be deterred from entering another person's home because of the risk of contracting COVID-19 themselves.
"The environment is less forgiving if you're a burglar at the moment. I think that criminals would be concerned about COVID-19 as well and that they will be at home too," said Haywood Cripps.
"It [the decrease] fits the pattern of what is doable and what is less doable in the environment at the moment. It is much more difficult to travel around and people are much more noticeable because the streets are empty both during the day and during the night."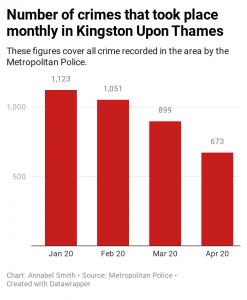 The number of crimes committed in April had nearly halved compared with the number committed in January due to stay at home measures and fear of COVID-19.
However, as lockdown measures are eased in the coming months and people are encouraged to go back to work and school Kingston Council has said there is the potential for a surge in crime, particularly burglaries.
Kingston Council said: "As lockdown lifts and these protective factors no longer exist we will work with the community and our partners to prevent burglary offences."
Latest posts by Annie Smith
(see all)