Cycling infrastructure in Kingston has improved massively since 2014, when Transport for London awarded the borough with a grant of £32m to encourage bicycle riding.
Since then, a number of new cycle lanes have been constructed in the town centre and on highways leading to Surbiton, New Malden and Tolworth.
Local groups played an important role in scrutinising the council's plans to spend the money, the most prominent of these being the Kingston Cycling Campaign (KCC), an offshoot of the London Cycling Campaign.
Lobbying the council
In the case of Portsmouth Road, which now has a two-lane cycleway, the council initially proposed a scheme that left cyclists separated from traffic by just a white line.
KCC lobbied the council to change its plans and, as a result, the authority came back with a proposition that completely separated cyclists from traffic which the campaign said was well accepted by local residents.
Jon Fray, coordinator of the KCC, said: "It seems to have been very popular, we see lots more families and little kids riding with their parents and it feels a lot safer for people who are using the route maybe for commuting."
Organising group rides
In addition to lobbying the council, KCC also organises group bike rides for local residents. These take place every two weeks and encourage people who are new to cycling to get out on their bikes.
Fray said: "In contrast to sports cycling groups these are for people who are may be new to cycling or want a gentler pace of cycling. We take them out, guide them around the local area and then bring them safely back home."
"It's a nice sociable thing for people to do," he added.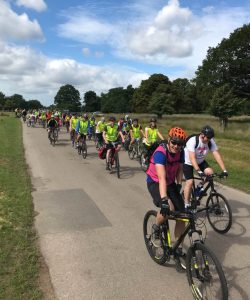 The support provided by KCC does not stop once people are confident enough to ride on their own.
They took it upon themselves to put together a get cycling guide which features detailed directions and maps of some of the most scenic rides in the area.
Fray said: "It is to help people explore the local area again, but this time by themselves, so it's got some maps so they can easily get to places like Horton Country Park and Wimbledon Common. Richmond Park is well known but we like to help people to explore and find different places."
Spreading awareness of bike theft
Bike sales boomed this year amid coronavirus restrictions, with the UK Bicycle Association reporting a year-on-year increase in pedal bike sales of 63 per cent between April and June 2020.
But with this boom in pedal power came a rise in bike theft, with Bike Register's figures for the first half of 2020 showing stolen bicycle cases up by 48 per cent since the end of 2019.
The KCC said that the problem is particularly acute in Kingston.
Fray said: "There seems to have been a longstanding problem with bike theft in Kingston. It seems to in the past to have been centred around railway stations where thieves know that bikes are parked for a long time."
After making the connection between stations and thefts the campaign was able to lobby local rail operators to implement increased security outside train stations around Kingston.
"We've been active with Southwestern Railways to improve security for bikes. For instance, Surbiton station now has a big gated enclosure and Norbiton station as well," said Fray.
The group also uses Twitter as a kind of wanted poster for missing bikes.
Through tweeting and retweeting pictures of stolen bicycles, they hope to increase the chances of them being retrieved.