Kingston is one of the biggest bicycle theft hotpots in the UK, with cyclists in the KT1 postcode area more than nineteen times more likely to have their ride stolen than the national average, according to police data.
Police figures collated by Plumplot, a data visualisation site, show that Kingston ranks eighth out of 105 surveyed postcode areas in England and Wales.
The bike crime rate in the KT1 postcode area is 31 thefts per 1,000 people. That's more than nineteen times the national average bike crime rate which stands at 1.6 per 1,000 people.
By comparison, the overall bike crime rate in the 'KT' postcode area is 2.8 thefts per 1,000 people (which is still 175% of the national average).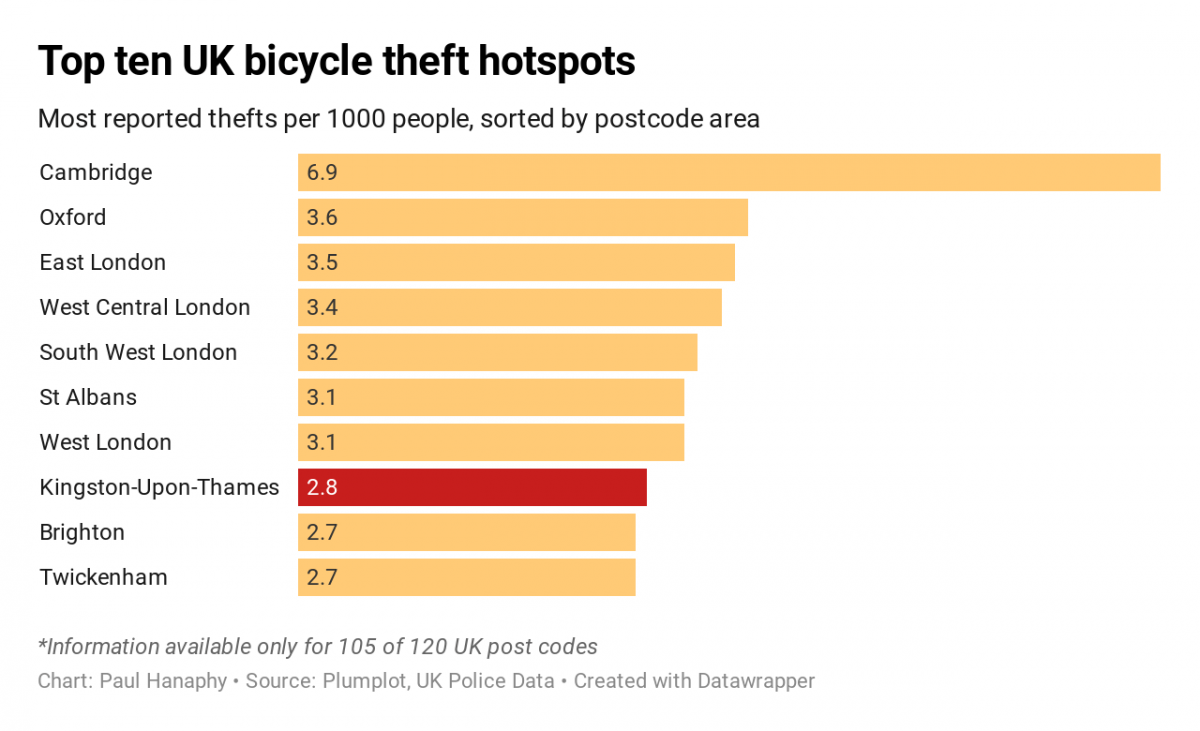 Local neighbours Twickenham also feature in the top ten, with eight of the ten areas located in London.
London accounts for more than a fifth of all bike thefts according to ONS police data, with a staggering 21,274 reported cases between January and September last year, out of the national total of 91,288.
In terms of overall crime rate though, Kingston Council statistics reveal that Kingston has a significantly lower crime rate than average in London, and The Kingston Courier recently reported that Kingston came second in a Rightmove poll for happiest places to live.
The crime rate represents the number of crimes reported per 1,000 people across the UK. Kingston remains well below the national average in all areas from theft and anti-social behaviour to violent and sexual offences.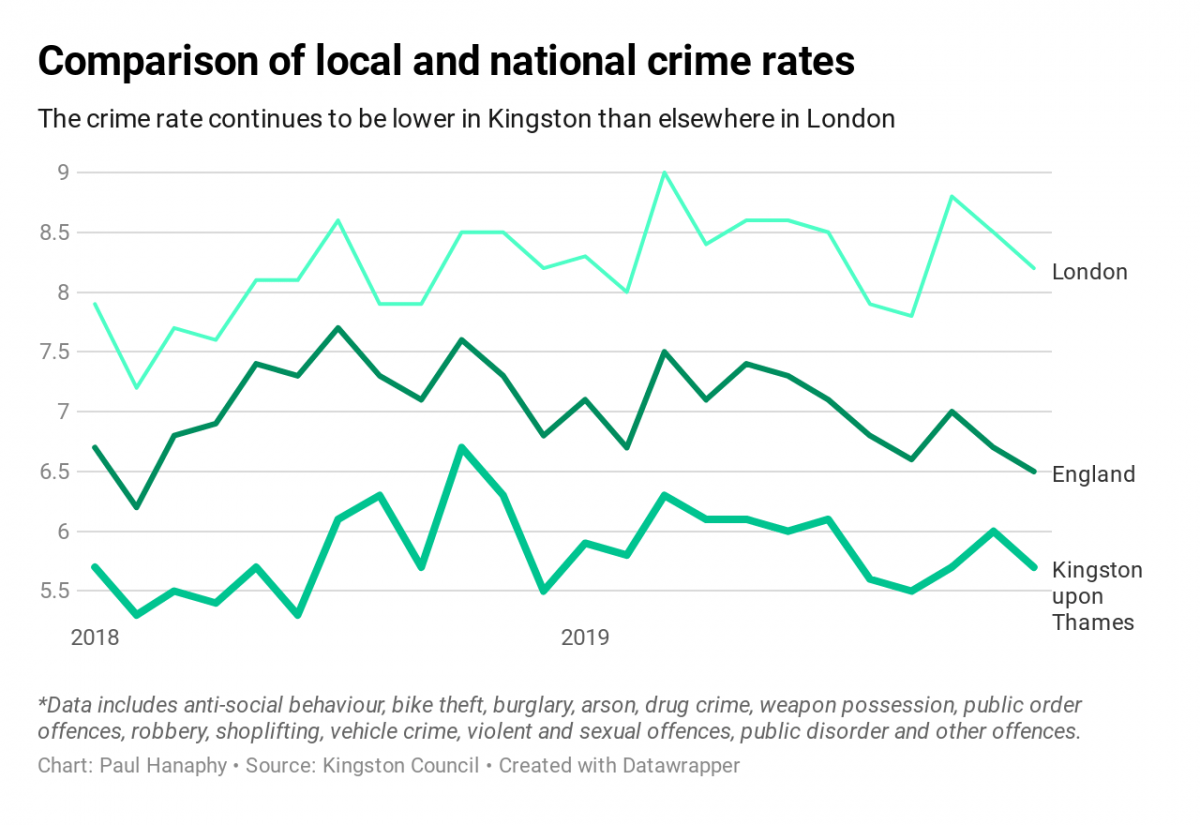 Business and bike shelters
According to Wes Swalter, manager of the local Evans Cycles shop on Richmond road, bicycle theft has been an issue in the area for some time.
"It might be a nice area for houses and flats, but it's definitely got an issue with stock loss. I've worked on Clarence Street for a number of years and it's always been an issue. Every day, every week. We've even had bikes stolen from here [Evans Cycles]," he said.
He described two incidents in the past week where customer had parts of their bikes stolen, including a nurse and a single mother who had her back wheel stolen, despite the fact she had left a child seat on the back.
"People don't bring their [best] bikes [to work]," he said. "They're not rubbish bikes. They probably bring their second bikes because they can leave and afford to lose it," he said.
Kingston council has introduced a number of measures recently in an attempt to combat bike theft including new 'cyclehoop hangers' for bike storage. But according to Swafler, the bike sheds are pointless without supervision.
"It's all well and good coming up with places to keep them, but it's no good if there's no security," he said.
What cyclists can do to secure their bikes
According to Tom Bogdanowicz, senior policy and development officer of the London Cycling Campaign, preventing theft starts with good quality bike locks.
"You need to have two good grade bike locks. You should be using a lock that's at least 10 per cent of the value of the bike. Then, don't hide it away. Try to put it somewhere in public where people can't use heavy equipment to break the lock," he said.
Bogdanowicz also recommended that cyclists register and insure their bikes, so that if they're stolen, they can easily be found, and that insurers often charge between 12 and 15 per cent of the value of the bike.
The safer transport team, a division of The Metropolitan Police, also run free bike marking events in partnership with Halfords in New Malden on the last weekend of each month.
These help cyclists to create a 'bike passport' to identify their bike if it's stolen, and to apply tamper-proof tags that could prevent potential thieves from targeting their bikes.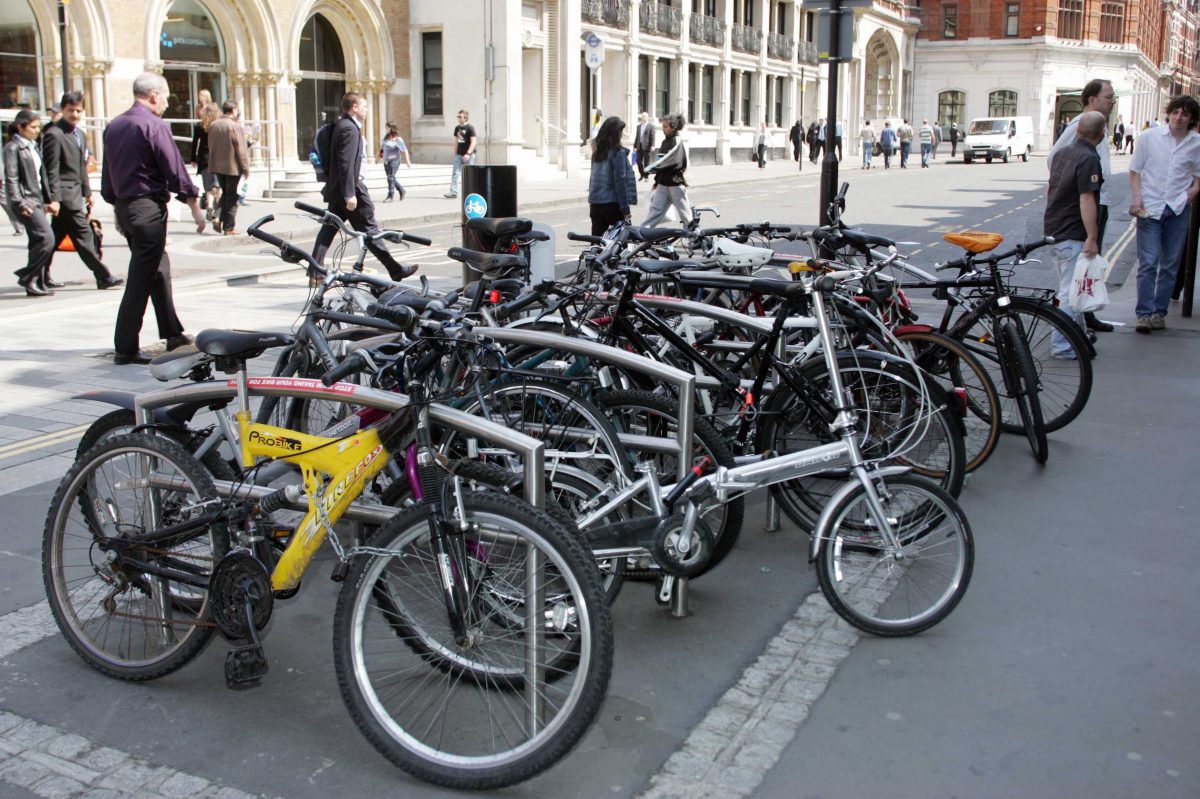 The London Cycling Campaign's 4 top tips to prevent theft:
1. Use two good locks
Preferably use two different types of locks so that thieves can't use the same tool on both. They advise that you spend at least 10 per cent of the value of your bike on the locks, suggesting a spend of £25-£80. It sounds like a lot but it's cheaper than a new bike!
2. Lock your bike's wheels and frame
When locking your bike, make sure it goes through the wheel and the frame. This prevents thieves from stealing wheels and makes it harder for them to break locks with leverage attacks. No lock is fool-proof, but it's about making your bike as difficult to steal as possible.
3. Lock it in the right public areas
Obviously it's safer to lock your bike indoors either at home or at work but this isn't always possible. Use bicycle stands, racks and 'U' stands as these are designed for double lock parking. Try to lock your bike in busy public places where thieves are less likely to strike in front of multiple witnesses!
4. Mark/register your bike
If your bike is stolen, you're far more likely to get it back if it's been registered online. Registering your bike's description and frame number on sites such BikeRegister, Check That Bike and Immobilise allows the police and bike shops to find your details and return your bike to you should they come across it after a theft.