A poll has found that 54 per cent of Londoners are against the Mayor of London Sadiq Khan's plans to introduce a charge on motorists entering the capital.
The Greater London Authority (GLA) Conservatives commissioned the survey, conducted by YouGov, after the former voiced their opposition to the new toll.
Susan Hall, leader of the GLA Conservatives, said: "This must be a wake-up call for Sadiq Khan. Londoners do not support his ludicrous boundary charge proposal."
The mayor has proposed a £3.50 daily charge on motorists coming into London, rising to £5.50 for those in non-environmentally friendly cars, in a bid to revitalise Transport for London's (TFL) finances.
It has been criticised, in part because it could discourage businesses from operating across the boundaries of the capital.
Roger Lawson from the Freedom for Drivers Foundation said: "Many businesses that serve customers in outer London, such as plumbers and builders, live outside the M25 and will now be reluctant to drive in when they cannot use public transport to do so as they need to carry tools.
"For anyone who lives in the area outside the M25, this proposal will be anathema but they won't get a vote on it because they don't have a say in the election of the London Mayor."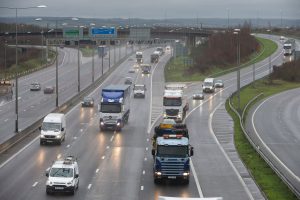 The London Cycling Campaign and its borough branches have welcomed the charge as it could result in fewer vehicles entering the capital.
"A charge, as well as raising much-needed revenue, could reduce car and van journeys into London and if it were related to emissions could also drive a reduction in air pollution and carbon emissions from vehicles," said Jon Fray, Coordinator of the Kingston Cycling Campaign.
Balancing the books
Transport for London (TFL) made the proposal to reduce the black hole in its finances caused by a drop in ticket sales from the pandemic, which saw it receive a £1.6b bailout package in May 2020.
Khan has called on the government to repatriate vehicle excess duty (VED) paid by Londoners back to TFL.
In TFL's January financial stability plan, commissioner Andy Byford said the charge would only be imposed if the body could not recover the extra funds from VED.
"TFL can cover its cost of operation, maintenance and financing, and an increasing proportion of its core renewals, assuming there are no further large economic shocks, with £500m per annum from VED or a Greater London Boundary Charge," he said.
Twickenham MP Munira Wilson said she believed those on lower incomes would be hit hardest by the charge.
"While it will raise some money at a time when Transport for London's finances are in a mess, it is yet another unfair, flat-rate charge that will hit the poorest most.
"It does nothing to address the long-term challenges our city faces," she said.