The Menu, a film directed by Mark Mylod, has all the right ingredients, it's a satisfying satirical horror which shames the very rich through a night of culinary chaos.
"Eat the rich" has an entirely new meaning as the insanely wealthy are invited to enjoy several courses on a remote island: the final one being themselves.
A group of shallow bourgeois characters head out to a desolate island, anticipating a fine dining experience like no other. Among them are obsessive foodies, tax evaders and unbearably snotty restaurant critics. The experience is organised by the island's head chef and cult leader whose precise menu serves entirely as a series of life lessons.
Renowned for his intense characters, Ralph Fiennes plays Julian Slowik, a chef so neurotic he makes Gordon Ramsey look like a golden retriever. Against him is Anya Taylor-Joy, a seasoned horror actor, playing the slightly two-dimensional Margot.
With a script seemingly focused on offering life lessons, both actors did well to induce life into their characters. Their magnetism and impressive acting alluded to a past which was only briefly mentioned in the film. The two had an interesting chemistry which was perhaps intentionally lacking with the chef and his other guests.
The script, whilst purpose driven, was enjoyable and fitting to its wider aim to mock capitalist culture. Its self-awareness, abrupt one liners and absurd tangents offered a strangely comforting surrealist film. Which is an art form enjoyed by the newest generation after an almost century-long hiatus.
One of the most memorable scenes was the chef's take on performance art, a live suicide, which made for a shocking entry to the horror of the film and was met with a delusional reaction from his guests. This is an understandable response to such a gory art statement especially as the invited food critics are convinced the spectacle was an act of 'theatre.'
Once viewers gauged the film, there was consistent laughter throughout which was likely unexpected for most audience members who had purchased tickets for a thriller. Though hardcore horror fans may have been expecting more gore or jump scares, the inclusion of humour was a refreshing take on the sometimes restricted genre. The moments of comedy split up tension providing light relief and encouragement to keep watching.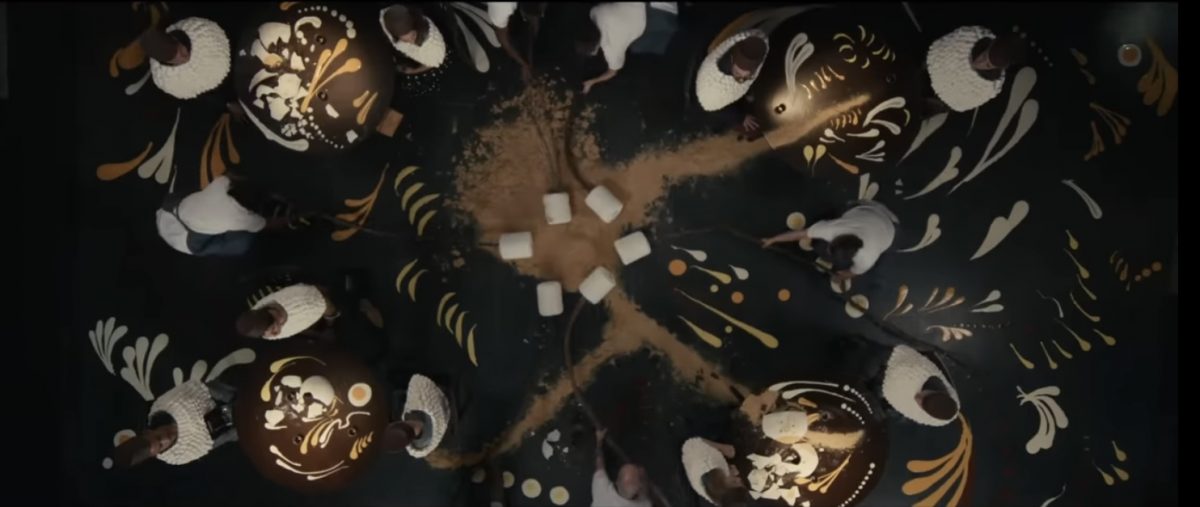 Director Mylod adds The Menu to a rather diverse cinematography ranging from Ali G Indahouse to his contribution as director on Game of Thrones. He embraces the inhospitable landscape through a series of long shots and an underlying blue tone which accentuated the bleak atmosphere. He succeeded in making this nightmare all the more real, through camera work which at times felt like a cooking reality show.
The fanciful introduction of each dish was a design choice enjoyed by the audience, as the film progressed into absurdity so did the menu's explanation.
The ending was an expected relief as the main protagonist finds her way out of the island by buttering up the chef. Mylod chose to end with a masterpiece which whilst aesthetically pleasing was truly horrific. Which of course, was a great final comment on capitalism.