The number of LGBT people in the UK is on the rise, but statistics show most choose to live in Central London over its surrounding areas.
Every February the UK celebrates LGBT History Month, which aims to educate communities on the experiences of lesbian, gay, bisexual and transgender people.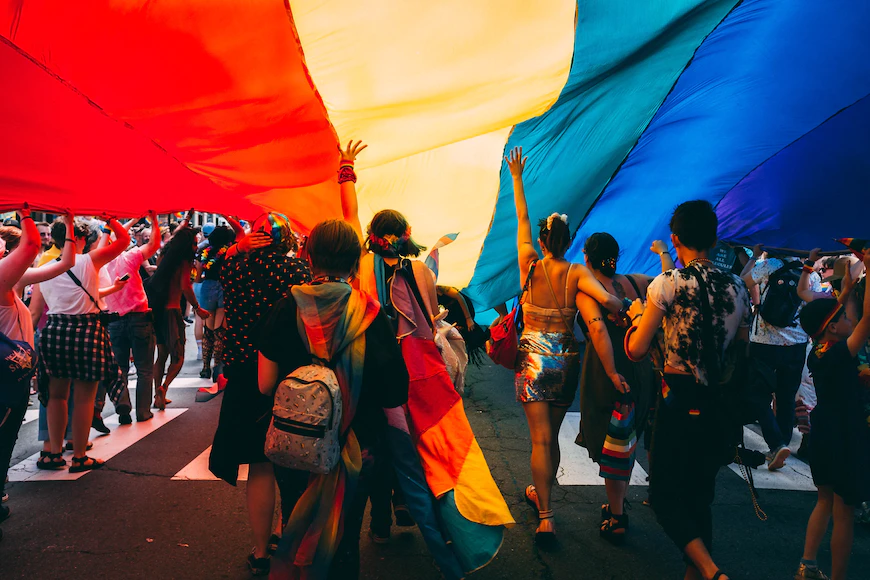 This year Kingston took part in the tradition by flying a pride flag at Guildhall on February 14. Council member Alison Holt saw this as an opportunity to celebrate what has been done for LGBT communities and focus on a better future.
"We are proud to be an inclusive borough with the 2021 census showing that 3.4% of Kingstonians identify as LGBT+," she said.
Census results from the Office for National Statistics (ONS) released in January 2023 revealed fewer Kingston residents identified as LGBTQ+ than its neighbouring boroughs. Out of the previously mentioned 3.4% of residents aged 16 and above, 1.56% identify as gay or lesbian, 1.49% as bisexual and 0.25% as pansexual.
Gender identity statistics revealed that some identified differently to their assigned gender at birth, with 0.14% identifying as trans women, 0.13% as trans men and 0.06% as non-binary.
Though most of the population identify as straight or heterosexual, the number of people who identify as LGBT+ is increasing. While the previous census did not explore sexual identities in the UK, the annual population survey has shown a steady decrease in heterosexuality since 2015.

Penelope McClure, from the population statistics division office for National Statistics, said: "An estimated 1.4 million people aged 16 and over in the UK identified as lesbian, gay or bisexual in 2019 – a significant increase from 1.2 million in 2018."
How does Kingston compare to other London boroughs?
Compared to boroughs closer to Central London and the City of London, these figures are measurably lower. Kingston's neighbouring borough Lambeth is home to 5.31% of gay or lesbian citizens and 2.25% bisexual residents.
Similarly, 3.05% of Wandsworth's residents identify as gay or lesbian, which almost doubles Kingston's 1.56%.
Lambeth's results are much closer to Central London's which, unsurprisingly, are the highest of the London region. Almost 8% of city folk identify as gay or lesbian and a further 2.31% identify as bisexual.
However, areas further away from Central London scored lower in these categories. Only 1.74% of Merton residents identify as gay or lesbian and 1.86% of those living in Richmond upon Thames.
While these statistics are still higher than Kingston's, the number of LGBT+ residents still average similar at 3.3% for both boroughs.

LGBTQ+ community opting to live closer to London
The 2021 census showed more LGBT+ adults are opting to live closer to Central London. The capital also had a higher proportion of people identifying as transgender women (0.16%) and trans men (0.16%).
Ian Howley, chief executive of LGBT Hero, a nonprofit organisation based in London, commented on this trend. He said: "Many LGBTQ+ people can't be themselves in their hometowns and villages so the lure of a welcoming community in London is hard to turn away from."
London has long been a magnet for queer communities. Areas such as Soho have historically embraced queer residents, and businesses have benefited as a result. Heaven, the UK's first gay superclub, is based near this area, opening its doors in 1979 and providing a safe space for the LGBT community for over 40 years.
But as the 2021 census revealed, other areas of London have become LGBT hotspots.
Howley suggested Lambeth became popular with the queer community, particularly during the 1970s and 80s, as it was more affordable than Central London.
"During the 1980s, many of the HIV organisations and groups came together in Lambeth. It was inevitable that many people would live in the borough. Lots of gay spaces popped up as a result," he said.
Some of these spaces in Lambeth still exist: the Royal Vauxhall Tavern and Two Brewers have been serving the LGBT community since the 1980s.
Cities: a safe space for the queer community
The pattern of queer communities moving to the city is mirrored in other areas of the UK. For example, 3.34% of Mancunians over 16 identify as gay or lesbian as opposed to only 1.67% of people in the next-door town of Stockport.
Jess Walmsley, a student at the University of Manchester, puts this down to the large number of queer spaces in the city.
"We have cafes like Feel Good Club putting on queer quizzes, there are bookshops dedicated to queer literature, nightlife events for all genders and sexualities, talks from activists, trans rights block at protests," she said.
View this post on Instagram
There are fewer places and fewer choices in rural areas, but Walmsley said: "There's a huge push for inclusion in the city."
Queer folk living in cities are also represented on a global scale. San Francisco is the United States' gay capital, with 2020 census date revealing 2.33% of households are same-sex. Similarly, Australia's 2021 census found that same-sex couples were most likely to live in capital cities.
Queer spaces in Kingston
Ali Zahoor, co-founder of Seoul Drag Parade, suggested Kingston is a more conservative area that is perhaps less likely to embrace drag than nearby areas such as Lambeth.
Whilst Zahoor often uses Kingston venues for drag shows, he believes Kingstonians might travel further to attend one.
"I think there are queer spaces, there are queer communities. But I don't know if they're accessible, I think a lot of people don't know about them," he said.
How is Kingston becoming more LGBT visible?
While fewer LGBT+ adults currently reside in Kingston than in Central London and Lambeth, council members and the community are still eager to embrace queer history.
In a press statement, Kingston Council said it "is committed to helping to educate its residents on LGBT+ matters and celebrating the rich diversity of the borough."
The statement also revealed that 8% of Kingston's 16-24s identify as LGBT+, which is the sixth-highest proportion of all London boroughs and the highest in outer London.
While Kingston is not known for its LGBT history, perhaps the future points towards a more inclusive borough.
Businesses such as Ram Jam Records continue to host regular drag nights, with Seoul Drag Parade returning on March 12 for a 'comeback show'. O'Neill's has followed suit by announcing Blood Sweat and Heels, a show by Camp Closet.
In the meantime, Kingston Council aims to support its LGBT residents. "We will continue to work with our partners, promote further research and engage with people from communities to support our LGBT+ community all year round," it said.