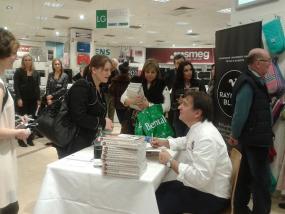 World-renowned chef Raymond Blanc held a cooking demonstration and booksigning in Bentall Centre's department store yesterday.
Mr Blanc entertained the crowd showing off his new cookware line on several different recipes while telling stories of his mother who inspired him and his experiences in the kitchen over the years.
He then met fans and signed copies of his new book, Kitchen Secrets.
An audience of around 50 people watched from the store's Living Kitchen as Mr Blanc exhibited the finer points of cooking with easy recipes for busy lives.
All three recipes, the Moules Mariniere (mussels), the Steak Maman Blanc and the Reverse Chocolate Crumble, together took just over an hour to make.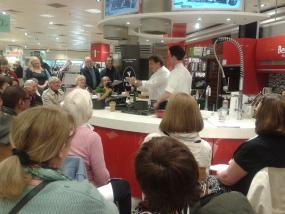 The animated chef kept the crowd amused with stories of his family, unusual guests to his restaurants, the occasional joke about the French and his passion for good food.
"Cooking should always be fun," Mr Blanc said. "Ingredients should always be fresh, seasonal and responsibly sourced, and time should be taken to choose the best varieties."
When asked about the most important things people should take away from his work, he said: "Whatever your dream is, whether it is your career or your passion, in my case they are one and the same, it is vital to learn your craft well."
Mr Blanc has appeared in UK cooking shows since 1985 and has been opening and operating his Brasserie Blanc restaurants across the UK since 1996.
He is also the owner and chef of Le Manoir aux Quat' Saisons, a two-starred hotel-restaurant in Oxfordshire, and the author of several books.