The government's online safety bill would see cyber flashing become a criminal offence in England and Wales. Cyber flashing offences could then lead up to a maximum of two years in prison for offenders.
Cyber flashing is when offenders send random or targeted unsolicited and sexual images, usually though social media or dating apps, or sent over services such as Bluetooth and Airdrop. If the device or image includes a preview, or the app automatically saves images to a device, people are then forced to see the image.
A white paper for the online safety bill had originally been introduced by Theresa May's Conservative government in April 2019. The inclusion of cybercrimes is part of the government's mission to try to tackle new and emerging crimes such as crimes that occur online.
Women experience increasing cases of cyberflashing
Since the start of the pandemic, research from dating app Bumble showed that more than 48 per cent of women in the UK experienced unsolicited cyber flashing in 2021 through unwanted sexual photos. This is an increase from 41 per cent of women in 2018, according to a YouGov survey.
UN Women UK Executive Director Claire Barnett said the new bill reflects the rising number of female victims of cyberflashing.
Barnett said: "Over the last year, 3 in 4 (79 per cent) women under the age of 44 have become more concerned about the connection between their online and offline safety. As we continue to spend more of our lives online, dangers for women continue to increase. 
"Flashing isn't acceptable offline, so the same should be the case online too. It can be extremely damaging and traumatic for victims, with this behaviour leaving a lasting negative impact that extends beyond that one interaction.
"The experience isn't momentary or fleeting; more than half of women claim to have been left feeling less trusting of others online (59 per cent), and almost 1 in 4 feel violated (22 per cent) and more vulnerable when using the internet at large (23 per cent) as a result."
Cyberflashing has become an increasing part of the continuum of sexual and gender-based violence which disproportionately affects women and girls of all ages. Almost 76 per cent of girls 12-18 had been sent unsolicited nude images of boys or men, according to research by Professor Jessica Ringrose of Sociology of Gender and Education at the University College London Institute of Education. She said this is a form of "sexual entitlement" and a form of "toxic masculinity" seen in boys and men. 
The issue of consent in cyberflashing
She said: "Many unsolicited dick pics are also 'transactional,' that is men and boys seeking to get nude images back."
If these types of pictures are unsolicited, it means they were sent without consent. This a form of image-based sexual harassment, particularly against women and it now falls under the inclusion of the cyberflashing offence in the new online safety bill.
Ringrose said: "The current offence is extremely limited as it is 'motive based' which only applies on proof of specific motives of the offender, such as causing distress, alarm or humiliation, or sexual gratification and being reckless as to causing distress. What is needed is a comprehensive 'consent-based' offence only requiring proof of non-consent.
"With a consent-based offence the victim would not have to prove that the perpetrator had a specific motive only that they acted non-consensually and sent images of their genitals that were not wanted, and the emphasis would be on the victim's experiences of distress rather than the perpetrator's motives."
Charities advocate for better handling of cyberflashing cases
Charities founded or run by women have also advocated for changes in how online safety and abuse is dealt with in the modern age. Charities like Brook and Girlguiding have expressed their support for the criminalization of cyberflashing in the new bill.
Brook is a charity founded by Helen Brookes, a pioneer in sexual and reproductive rights for women, in 1964. The charity continues to advocate for healthy lives for young people and provides support for a range of issues including sexual and online abuse and harassment. 
Head of policy and public affairs at Brook, Lisa Hallgarten said: "We hope that the criminalisation of cyberflashing will play a role in emphasising that it is a harmful behaviour and not just 'a bit of fun'. However, criminalisation is not a silver bullet."
Hallgarten said there is no shortcut to creating a sound understanding of sexual consent and for promoting ethical sexual behaviour. She also said Brook would love to see sufficient investment and changes in education, culture and the law surrounding cyberflashing.
"Good quality relationships and sex education is vital to promote strong and consistent messages around legal and ethical issues; to increase understanding, nurture empathy and support young people to avoid becoming perpetrators in the first place."
Girl Guiding is a female led organisation for young girls and women. The organisation has been vocal about issues affecting women such as increasing cases of cyberflashing experienced by its members. 
Girlguiding Advocate Maddie, 23, said: "Girlguiding research states that 22% of young women aged 13-21 have experienced cyberflashing in the last year, so I'm really pleased to hear it will now be illegal – it's a real issue that girls and young women face. However, more needs to be done.
"Seventy-nine percent of girls experience harm online, including sexist comments, sexual harassment, cyber stalking, and pressure to share nude images. The Online Safety Bill must be amended to cover violence against women and girls in its entirety to provide the protection urgently needed."
The new bill will also include other online criminal offences that tech companies will not be allowed to ignore. This includes controlling prostitution for gain, sexual exploitation, revenge porn, hate crimes, fraud, online drugs or weapons sales and distribution and promotions or facilitation and people smuggling. The bill follows recent action in criminalising upskirting and breastfeeding voyeurism.
Tech companies will have to promptly remove unsolicited sexual images and take actions to prevent online users being exposed in the first place. Ofcom will also gain news powers to block and ban access to those that fail to comply. It would give companies a fine up to 10% of the global turnover.
Cyberflashing on public transport
Cyberflashing is not only a technology issue but also a transport issue on bus and railway networks, according to the British Transport Police (BTP). BTP expressed its support for the bill, hoping it will allow for more justice for cyberflashing offences.
BTP Assistant Chief Constable Charlie Doyle said: "British Transport Police have always taken reports of cyber-flashing very seriously and we welcome any extra help in bringing more offenders to justice.
"We expect this new legislation will be a positive step in helping to drive out this unacceptable behaviour and increase judicial outcomes for victims.
"We know that all forms of sexual harassment are under-reported to police, and I hope that the new legislation and increased awareness will encourage more victims to come forward and tell us about what's happened to them."
Doyle also said the BTP will always take people seriously when they contact them about an offence. He said if people experience or witness behaviour such as cyberflashing on public transport, they should contact them. They can text 61016 or call 0800 40 50 40.
Academic suggests revisions needed for online safety bill
The current form of the bill only acknowledges certain forms of cyberflashing as an unlawful criminal offence. Professor of Law at Durham University Clare McGlynn agrees with Ringrose that the bill should cover all forms of cyberflashing and should be based on consent. She suggests the online safety bill has offered significant potential to reduce online harms but there are still amendments that need to be made to the new bill.
McGlynn said: "The Bill needs to be revised to recognise the nature and extent of online abuse that women face. Women are disproportionately affected by online abuse, yet there is little specific reference to them in the Bill.
"I welcome the proposal to criminalise cyberflashing. However, if the Bill is to significantly reduce online abuse against women and girls, much more needs to be done. The Bill needs to name online abuse against women and girls as a priority harm and ensure that social media companies have to take it into account in reviewing their policies and systems."
After amendments were made to the bill to ensure all aspects of cyberflashing are considered an unlawful offence, Benett said: "Once cyberflashing is legalised, the next step is better education from a young age to prevent it from happening in the first place."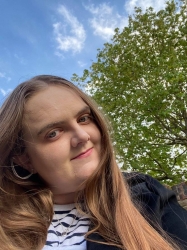 Latest posts by Chloe Sladden
(see all)