A Victorian clock tower in Hoddesdon town centre, Hertfordshire, has been lit up in blue and yellow to represent the county's solidarity with Ukraine.
The clock tower will be lit up daily to show Hertfordshire resident's support for Ukraine and to remind them of what Ukrainians locally and aboard are going through.
The clock tower was originally built in 1836 on what used to be the site of the old chapel of St. Katherine. It is now owned by the Diocese of St Albans, which forms part of the Canterbury province, and Church of England, and comprises the counties of Hertfordshire and Bedfordshire.
In a press release, Hertfordshire County Council leader Cllr. Richard Roberts said: "We stand united in solidarity with the people of Ukraine and are heartbroken to see the human suffering caused by this unnecessary war.
"I know the people of Hertfordshire will respond. We do all care."
Hertfordshire residents can help Ukrainians by signing up to the Homes for Ukraine scheme and by donating to various emergency appeals and charities.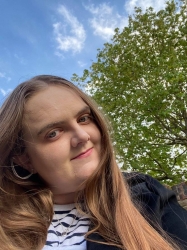 Latest posts by Chloe Sladden
(see all)