The head of Kingston Council has called for volunteers to help vulnerable residents during the coronavirus outbreak and says "the worst is yet to come".
Cllr Caroline Kerr, head of Kingston Council, urged locals to register as volunteers for the Kingston Stronger Together scheme, which was set up to provide elderly and vulnerable residents with essential resources including food while they remain in isolation.
Cllr Kerr said: "Lots of people have been told that they have to self isolate for 12 solid weeks and if you want to help somebody old or vulnerable who's in that situation please do sign up for our volunteering network.
"We know that the worst is yet to come.
"As the new leader of the council, I am committed to ensuring we are prepared for the challenge ahead."
The council launched the Kingston Stronger Together network in collaboration with local charities Kingston Voluntary Action and Volunteering Kingston in response to the COVID-19 situation on 20 March.
In a joint statement, volunteers for the scheme said: "It has been great to hear about so many in our community wanting to volunteer to help those needing support at [this] worrying time.
"We do not want to stop friends, families, and neighbours who know each other from helping each other, so please do continue to do that, and use Kingston Stronger Together, if you are happy to help others you do not know yet."
On Sunday the council tweeted that over 500 members of council staff and around 700 residents have registered as volunteers:
The council estimates that around 30,000 people in Kingston Upon Thames will need food support while the country remains in lockdown and is urging locals to donate food such as perishable and frozen goods, rice, pasta, potatoes, long-life milk, and tinned food.
Cllr Kerr said: "My sole focus for the next few months will be to get the borough through this unprecedented time and to communicate with residents about the best ways they can help each other while sticking to the rules which are designed to keep us all safe."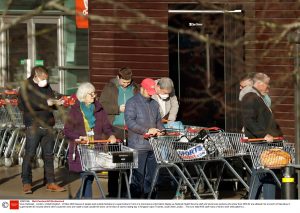 The council's advice to anyone delivering items to vulnerable people and those in isolation includes washing your hands with soap and warm water for at least 20 seconds before handling supplies, leaving food deliveries on doorsteps and maintaining a distance of at least two metres when the person comes to the door.