An estimated 1.5 million people had reported symptoms of Covid-19 which lingered for more than four weeks by 31 January 2022, according to figures released earlier this month by the Office for National Statistics (ONS). This is informally known as Long Covid.
Of those 1.5 million, 65 per cent said Long Covid symptoms had adversely affected their ability to carry out their usual day-to-day activities. But what exactly is Long Covid?
Dr David Akibu, a South London GP, said the symptoms of Long Covid were typically drawn out and varied in presentation.
"Unlike most viral illnesses that are short lasting, patients have certain effects from Covid-19 that have lasted 12 weeks or longer. There is a long list of symptoms," he said.
"The good thing is studies like the Zoe study, which is a massive study looking at Covid-19 symptoms internationally. We're still learning more as things go, which is why it is useful having global studies so there is a rich data bank to assess the effects of Covid-19."
According to the NHS, the term Long Covid can include both ongoing symptomatic Covid-19 infections as well as post-Covid-19 syndrome. People of all ages can be affected, and the severity of the initial illness does not appear to be a factor in whether someone will get the condition.
Symptoms
Long Covid is associated with a myriad of symptoms, impacting physical and mental health.
Common symptoms include:
Fatigue
Breathlessness
Cough
Chest pains
Heart palpitations
Gastrointestinal problems
Some people may even experience psychological and/or cognitive issues like anxiety and brain fog.
Mike, an ex-Kingston resident who now lives in Spain, caught Covid-19 early on and described it as "like the worst flu" he'd ever had.
"I caught Covid when it first broke out. About a year later I caught it again and I literally couldn't walk. My wife thought I was dying," he said.
"I slowly got better but taste and smell has gone. I have to take the stairs slowly or I get three quarters up and fall backwards."
Prevalence of symptoms
The ONS study revealed that fatigue was the most common symptom experienced, at 51 per cent, by the 1.5 million people who reported them. Shortness of breath was second at 35 per cent, loss of smell was 34 per cent and loss of taste and difficulty concentrating were each reported by 25 per cent.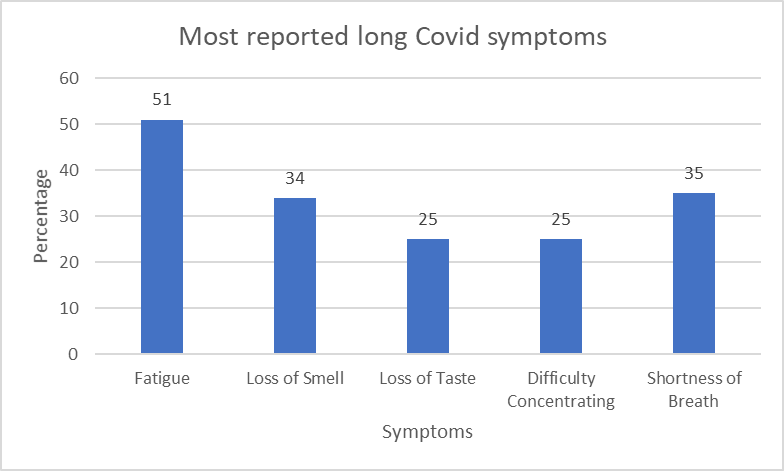 Jessica Harling, 45, an avid runner from Norbiton, had Covid in early January this year and despite only having mild symptoms, she has struggled with health issues ever since.
"(I) only had mild symptoms the first week but it has affected my heart. I'm fully vaccinated and boosted," she said.
"My cardiologist tells me that this is very common, especially in young, fit, healthy people but we're not hearing about it."
What is the NHS doing?
Back in October 2020, NHS England announced a funded five-point plan to tackle Long Covid. To follow that up, last year, NHS England released The Long Covid Plan 21/22 which outlined ten additional steps it would be taking to support individuals with the condition. That plan was backed by £100 million of additional investment.
Within the plan, the NHS described Long Covid as a "highly debilitating" and "increasingly widespread, multi-system condition". Therefore, the NHS committed to spending an extra £70 million of its funding, on top of the £24 million already spent, on expanding post-Covid assessment clinics.
These specialist diagnostic and treatment centres can be found across England, including at St George's Hospital, King's College Hospital, St Thomas' Hospital and, Chelsea and Westminster Hospital.
What are the current treatment options?
According to NHS.uk, at a GP appointment, a doctor will ask about symptoms and how those are affecting the individual. Tests including blood samples and blood pressure may be requested. Depending on the individual circumstances the patient may be given advice on how to manage their symptoms at home or if necessary, they may be referred to a specialist rehabilitation service.
Harling is still dealing with the debilitating symptoms of Long Covid and hoped more people were aware of the potential dangers.
Harling said: "I'm still not able to go back to work or even walk anywhere. I used to be very fit and healthy before Covid.
"I would love for there to be more awareness about the dangers of Covid."
When it comes to seeking help, Dr Akibu encourages people to first talk to their GP who can then refer them on.
"There should hopefully be some local pathway to reach a Long Covid clinic.
"We're very lucky. We've got major teaching hospitals like St George's, King's College Hospital and Guy's and St Thomas' and they will have special Long Covid clinics set up."
For more information go to: www.yourcovidrecovery.nhs.uk