Research released this week has revealed how little income musicians get from streaming services.
The survey, carried out by the Musicians' Union (MU) and The Ivors Academy, showed that 82 per cent of respondents earned less than £200 a year from streaming, despite the fact that some had millions of plays.
"There are far too many artists simply not making enough from their work to survive," said Keith Ames, musician and PR and marketing official at the MU.
"They can't pay rent on what they earn, and these are people who are making major hits.
"Covid and the outbreak and basically the experience of musicians in 2020 has highlighted how reliant most musicians are on the live scene."
'Just not worth it'
Kingston-based guitarist Ben Sutherland manages and plays in two metal bands, both of which are on Spotify.
In the first half of 2020, one of his bands, Bound in Fear, got over a million Spotify streams for one album.
But it was an achievement that earned the band just over $350 – not even £300.
Sutherland said that, with five band members, small income like this is not even worth dividing up.
"We get paid a very small wage from other income streams – merch sales, that kind of thing," said Sutherland. "But for streaming services, it's just not worth it."
The survey also revealed that many musicians even lose money from producing music for streaming platforms.
Jo Rogers is a singer-songwriter in Kingston-based alternative rock band The Report.
Whilst still fairly small, they put approximately £1,500 into producing two EPs in the past year.
Despite achieving over a thousand streams, they have earned just four dollars and four cents from Spotify – not even enough to cover the annual subscription to DistroKid, the service that uploads music to streaming platforms.
"We've expended a considerable amount of our own cash on recording and gear in order to be able to record stuff," said Rogers.
"And then you go to release your music… and you find that there's absolutely no way of making money whatsoever."
Connect with an audience
Both Rogers and Sutherland said that being on streaming services such as Spotify is essential for bands like theirs to connect with an audience.
But it means they are investing considerable time and money into a service that gives them very little back – which is worse now that live music events are virtually non-existent.
"The value of [streaming services] is the exposure and the discovery of fans that eventually will indulge in your actual income stream which is selling merchandise and copies of the records, and putting on gigs," said Sutherland.
"I feel like [Spotify] has this point of view that's like 'well, we've given you your audience, so we've already paid you'."
Without the opportunity for live events, the exposure provided by streaming services carries little benefit for musicians.
The MU is working hard to change this.
Artists need direct support
Tuesday, December 8, saw the second meeting for the inquiry into the economics of music streaming, the outcome of which has not yet been released.
A select committee of 11 MPs heard from big names in the music industry like Nile Rodgers and Fiona Bevan.
"What we're hoping for obviously is some sort of recommendation or report that'll point towards a way forward that will give a much more equitable return for musicians and writers and rights holders," said Ames.
But some people are not so sure.
"If it's a box-ticking exercise to say 'yes, we have asked our questions to the secretaries of state' then that won't do anything," said Sutherland.
"It really depends on which MPs they show it to."
In the meantime, there are things that the public can do to support the music industry.
"We need to support artists more directly," said Sutherland.
"On Spotify, you can go to an artist's page, click the 'about' page, and then you've got direct links to all of their social medias and often their merch stores, information about when they're playing, stuff like that… that's how bands make their money in the modern industry."
The MU is also encouraging people to email their MP in support of their submission to the committee.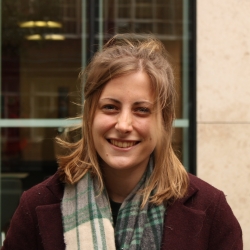 Latest posts by Daisy Stephens
(see all)