"My family don't understand it at all. Once they realised I was on antidepressants they didn't even try to understand or ask any questions. I think they think I'm just lazy and so I don't bother explaining when I'm experiencing symptoms."
For people like Charlie, a 26-year-old civil servant, taking medication for his mental health is more than just another mundane chore in his daily routine. Despite the days of increasing visibility and awareness via social media and beyond, some people across Britain feel stigmatised for medicating their mental health problems.
Charlie said: "I feel like there's definitely a stigma. I almost feel like people are waiting for you to fall apart after you disclose it to them. I tend to not share it with a lot of people."
However, increasingly people in the UK are beginning to feel more open sharing details about taking antidepressants to help manage problems with their mental health.
Deputy manager Glen, 30, said he felt most able to discuss issues surrounding his mental health, including taking medication, with close family and friends.
"I think I've certainly felt in the past that there has been a stigma attached to [antidepressants]. I've never been one to disclose it without reason I guess….essentially I do feel more comfortable discussing anything relating to my mental health with those I have a trusting relationship with.
"However, again if someone reached out to me and needed help I'd happily share my experiences."
Approximately 21.2 million antidepressants were prescribed between October and December 2021, a 3.48 per cent increase compared to the year before.

The rise of prescription antidepressant drugs have continued to grow steadily in recent years. Since 2015, 4.7 million more antidepressants have be prescribed, with the total number now standing at 98.94 million as of 2021.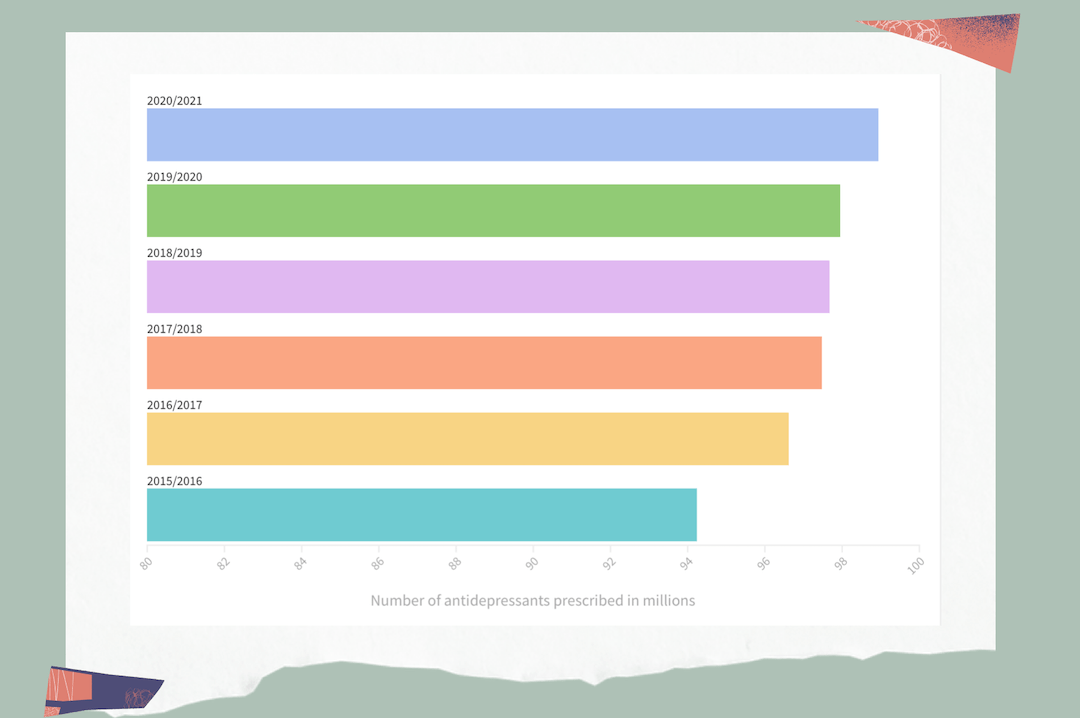 New research published by the British Journal of General Practice has found that the significant increase in the use of anti-anxiety drugs is particularly high amongst women and young adults.
Whether Britons are asking for help more often, or there are simply more of us struggling with depression, medicinal care for the treatment of mental health problems is on the rise. Why then, do many still feel stigma and is it getting better?
Towards the end of 2021, Dr Alex George, mental health youth ambassador to Number 10 and former Love Island contestant, posted an image online captioned "#postyourpill".
In the post, George revealed he took medication to treat his anxiety. The A+E doctor explained to followers that: "So many people live with medication stigma everyday, a fear that they will be judged as being weak or discriminated against, simply for taking a pill to help with their mental health."
https://www.instagram.com/p/CWxjxHQNvDK/
The post lit-up on photo-sharing platform Instagram and, prompted by George's hashtag, has since surpassed 5,000 posts with other users quoting #postyourpill.
Some people have found comfort in George's trend. "I think it helps normalise it which is a big help because it shouldn't be such a taboo topic," said Alex, 27, a product analyst who takes medication to cope with his mental health problems.
Roughly 1 in 4 people experience problems with their mental health each year, according to mental health charity, Mind. Despite a large proportion of the population struggling to manage their mental health, only 1 in 8 seek treatment to aid their recovery.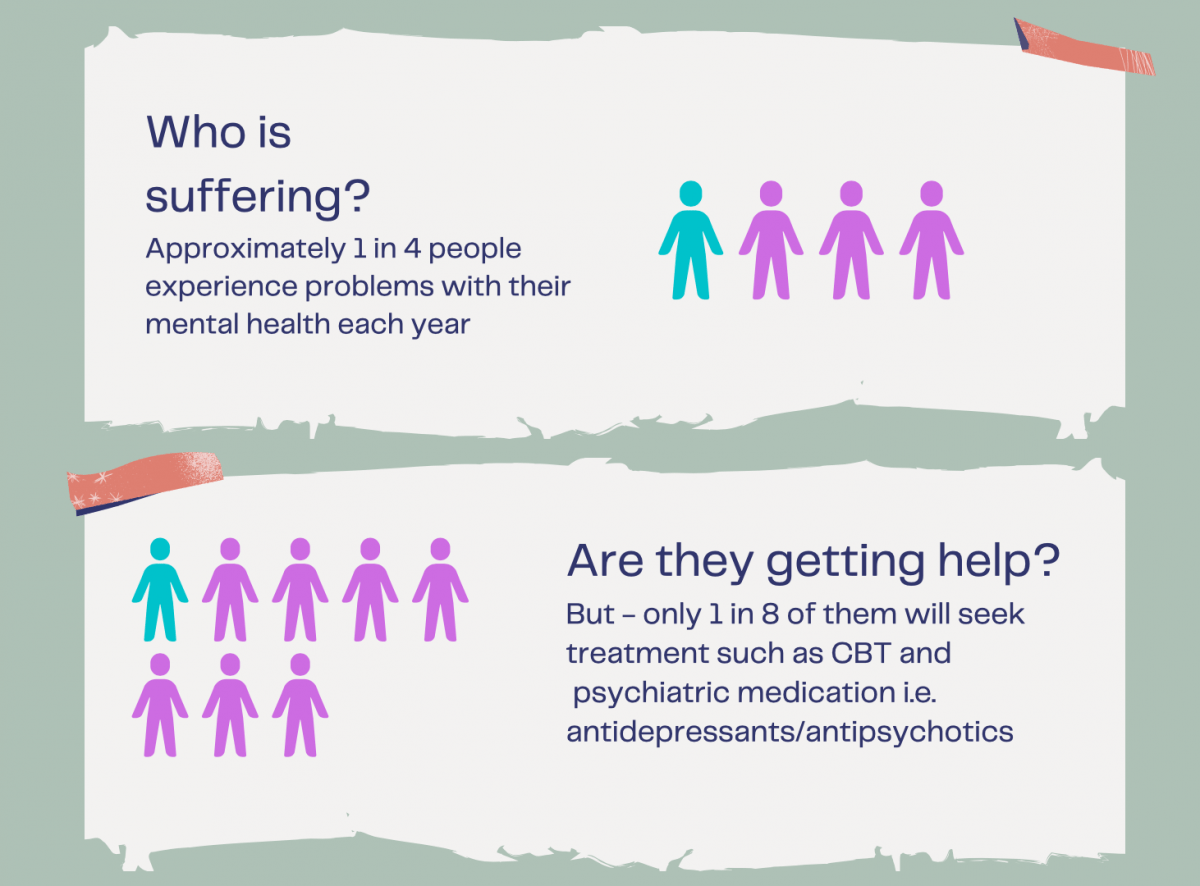 Some of the stigma surrounding antidepressants and antipsychotics involves the side-effects that may come with prescription drugs. Often, this stigmatisation can encourage patients to neglect effective treatment prematurely or even avoid the drugs altogether. The addictive nature of these types of medication can create stigma in itself, according to Anna Jackson, 32, a Cognitive Behaviour Therapist (CBT).
Jackson supports clients who undergo CBT to manage their mental health. Some of these clients balance therapy alongside medicinal treatment.
She said: "I think it's better than maybe say 10 years ago." She said, "I still think people aren't going to be screaming it from the rooftops… [There's] less of a stigma but it still exists."
Despite the continued existence of stigmatisation for those medicating their mental health, many have found comfort and effective treatment in antidepressants.
Housekeeper in hospitality Lucie, 23, has become accustomed to talking about her antidepressants: "I'm comfortable talking about it and I know what to expect as everyone reacts differently. I have tried counselling and that didn't work out too great for me so my last resort was medication but it's all been trial and error."
Paul, 26, a partner at an accountancy firm, has come to terms with taking antidepressants to aid his well-being and hopes to reject any stigma.
Paul said: "I understand that I am a depressed person and I just need that chemical imbalance levelling slightly. When I was slightly younger I was more erratic with my MH episodes, whereas now with some lifestyle changes and medication, I feel like I can at least get by. "
Psychologists and medical professionals, including Jackson, often agree that a combined approach of cognitive behaviour therapy alongside medicinal treatment is an effective way of helping people who are struggling with their mental health.
Jackson puts the gradual decline of mental health medication stigma down to increasing understanding within society, particularly as a result of long periods of covid lockdowns which gave many people the opportunity to slow down and focus on their wellbeing.
"I think because mental health is just so much more in the spotlight… because people were suddenly more aware of their mental health than before covid and maybe having a bit more time on their hands to be like, how can I better myself?"
To respect their privacy, the surnames of some interviewees have not been included.