Voices of Hope, a Kingston-based charity, will be hosting a dinner at Kingsgate church on April 22 to raise money to help Ukrainians that have been displaced by the Russian invasion.
Voices of Hope, which also runs the Good Food Co-op, said it felt it was important to play a role in supporting people that have been affected.
Ruth Dawson, project and development manager for the Good Food Co-op, said: "We called it Dinner for Hope because we wanted to raise money for Refugee Action and the Ukraine Humanitarian Appeal in light of everything that is happening at the moment.
"We run the Good Food Co-op, so we just thought, we'll use food from the Good Food Co-op, which is a fruit and veg box scheme, so that we can raise more money for the charities."
The Good Food Co-op sells some of its fruit and veg boxes to customers at full price so that profits can go towards heavily subsidising boxes for others who need it.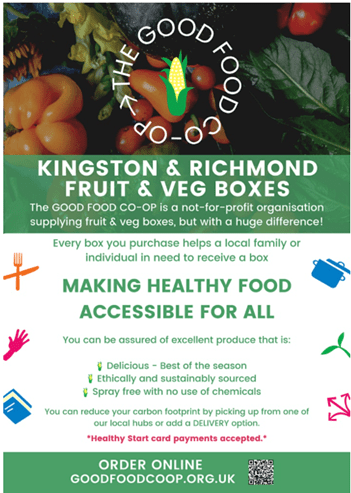 Nick Dawson, the operations and development manager, and husband of Ruth, said: "We've got the venue, we've got the food.
"It's that notion of community. Anything we can do to help others is a good thing."
Tickets for Dinner for Hope are a suggested minimum donation of £15 and money raised will be split between the Disasters Emergency Committee and Refugee Action Kingston.
Local pub, The Park Brewery have donated beer for the evening and there will be speeches about causes made by special guests, including one from Refugee Action Kingston.
Year-round support
Voices of Hope works year-round to support members of the local community and have seen how the rise in the cost of living has affected residents.
"We are increasingly getting referrals for people who are actually working and in some cases working two or three jobs," Ruth said.
Despite struggling, she said some people were still unable to access Universal Credit and that increases to utilities like energy which could "tip them over the edge". The heavily subsidised veg boxes The Good Food Co-op provides, mean that some people who are really struggling financially or on a low income can have access to fresh, healthy produce.
"There's already an element of giving that we've seen from the Kingston public around that project (veg boxes). We've been grateful for the support and long may that continue," Nick said.
Refugee Action Kingston
Ruth had high praise for the ongoing "excellent" work undertaken by Refugee Action Kingston.
"Obviously when there's a crisis, there's an influx of refugees, but generally, the work that they do (Refugee Action Kingston) and have been doing for years to try to integrate refugees into the local community, I think is really important," she said.
Director of Refugee Action Kingston Isik Oguzertem said residents played an important role for local charities.
"The more we as residents participate in activities in our community, the more our community becomes our own," he said.
"The asylum seekers and refugees that come to Kingston and the surrounding boroughs are new here. They don't have networks or maybe anyone they can rely on, so often charities like ours fill that role."
Oguzertem said his organisation supported around 1,500 asylum seekers each year in Kingston and the nearby boroughs.
Refugee Action Kingston offers a holistic service including "anything and everything a refugee or asylum seeker could need" from the point of entry said Oguzertem.
He said: "The best way to support us is to become a regular supporter.
"That type of longevity helps us to then plan for the future."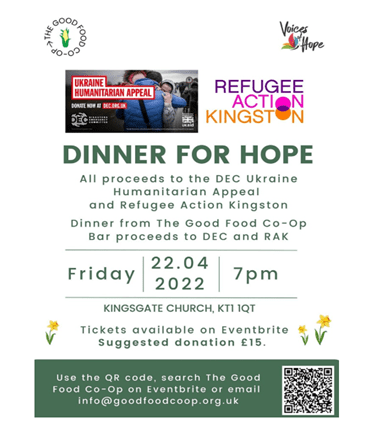 Both Ruth and Nick are happy they can do something to help, that will also engage the local community.
Nick said: "Uniting everyone around a common cause is a good thing to do."
Get tickets here