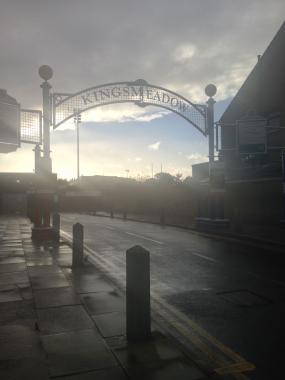 Alan Dowson's men stepped out at Kingsmeadow this afternoon in search for three points after recently suffering two consecutives defeats.
It took the K's only 4mins to announce themselves to the home faithful as Tommy Kavanagh guided a well-controlled effort on the edge of the area past Danny Gay.
Despite Kingstonian's early goal and domination of possession, Leiston FC showed signs of promise through midfielder Rhys Henry, who remained a constant threat with his rapid pace.
The K's came out for the second half in good shape, enjoying majority of the play down the right-hand side through Charles Ofusu-Hene.
The second goal of the game came from target man Ryan Moss who bulleted in a header from a Charlie Knight corner just after 67mins.
The K's began to grow in confidence pushing for a third and were almost queuing up to score.
A late effort on 84mins from Leiston FC's Blake Saker, was brilliantly saved by goalkeeper Rob Tolfrey, and was enough to award the K's their first clean sheet in five games.
Today's victory has pushed Kingstonian up into third place in the Ryman League Premier Division.
Attendance: 226