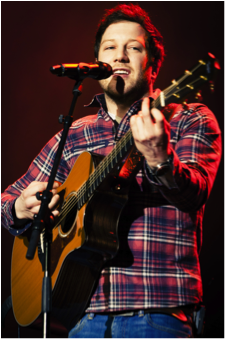 X Factor champion, Matt Cardle, rocked up at Banquet Records in Kingston on Friday to perform a free acoustic set for local fans.
A restless crowd queued outside Banquet Records on Eden Street for hours to see Cardle perform, cramming inside the cosy record shop as he belted out his ballads.
Cardle, 30, won The X Factor in 2010 and this week he is promoting the release of his third album, Porcelain, by playing at record shops around London.
He said: "I enjoy doing these kinds of shows. I used to play pubs and bars before The X Factor. It's different from playing the big live shows, but I still get nervous sometimes."
The X Factor star played songs from each of his three albums giving the audience a taste of his old and new material, which was equally appreciated by the crowd.
After the show Cardle sat behind the record store counter with a cup of tea and signed CDs for a large group of adoring female fans that waited patiently outside the store.
Banquet Records have weekly in-store performances from artists of all genres and you can keep up to date by checking out their website at http://www.banquetrecords.com/.
Image courtesy of REX/Ken McKay (landscape)/Jason Sheldon (portrait)