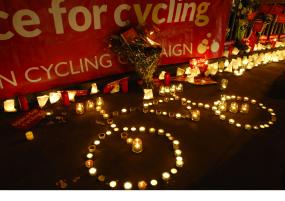 Kingston Police have issued 164 fixed penalty notices to drivers and cyclists since the launch of Operation Safeway in November 2013.
Operation Safeway is the Metropolitan Police's response to the death of six cyclists in 13 days last year and aims to improve road users' safety by enforcing road traffic law and raising awareness of safety guidance.
Among the offences in Kingston, 54 fixed penalties were issued for cycling on pavements & 45 were issued for driving whilst using a mobile phone.
A spokesperson for Kingston Police said: "We are aware that some cyclists use pavements in particular areas because they believe it to be safer, however, cycling on the pavements can pose a threat to pedestrians.
"As part of our ongoing work to make the roads safer for everyone, we regularly conduct spot checks and intelligence-led operations on heavy goods vehicles."
Since the operation launched on November 25, 2013, there have been no cyclist deaths on the roads.
However not everyone believes Operation Safeway has been a complete success.
Experienced cyclist, Hish T, from Chessington, said: "I've cycled in London for over 18 years.
"Operation Safeway is a waste of police time and money.
"Instead of stopping every cyclist they see crossing a red light or on the pavement, they should use the money to build separate road side bike lanes to stop them using the pavement.
"The thousands of officers placed around London have been if anything in my mind distracting.
"It's still too soon to say if it has made any difference."
Image courtesy of REX/James Perrin