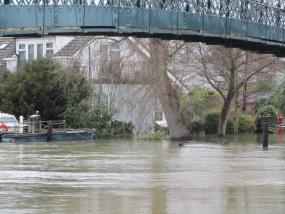 As the rain continues, homes on the riverfront in Kingston, Thames Ditton and Hampton Court are under threat of flooding.
Although the river level has dropped marginally over the last few days the Environment Agency has warned that levels could rise again over the weekend.
A spokesperson for the Environment Agency said: "With very heavy and persistent rainfall forecast over Friday and Saturday the levels are expected to rise again.
"Some isolated property flooding is still possible."
The Island in Thames Ditton has been affected by one of the worst floods in years with children using boats and canoes to get to and from their homes.
John Drewett, a resident on The Island, said: "It's a bad year, no question, but there is a really good community spirit.
"Even the postman comes over – he's waded through each day."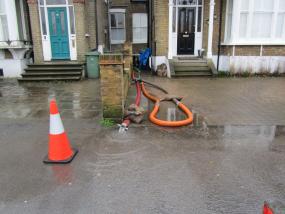 Residents in Hampton Court have also been affected and the Environment Agency has been on hand to drain water from homes on the river.
Houses on the riverfront in Kingston and Richmond are also taking precautions as the river steadily rises.
A spokesperson for Richmond Council said: "We are delivering sandbags to the residential properties along the river.
"We're expecting a surge tonight and tomorrow morning."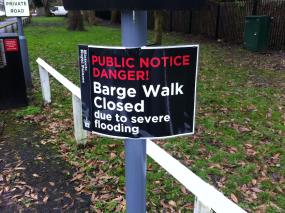 For details on flood warnings visit the Environment Agency website or call Floodline on 0845 988 1188
Images courtesy of Kingston Courier