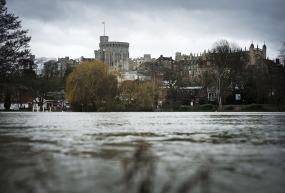 Edward Davey condemned fringe Tory and UKIP groups on Thursday for "parroting" arguments against climate change as the Thames continues to rise around Kingston.
Speaking at an event for the Institute for Public Policy and Research (IPPR), the MP for Surbiton and Kingston warned that climate change policy will break down if the political consensus continues to change.
He said: "From the right, fringes of the Conservative Party and UKIP are parroting the arguments of the most discredited climate change deniers.
"This type of climate change denying conservatism is wilfully ignorant, head in the sand, nimbyist conservatism.
"And when married to the europhobia innate to parts of the Conservative party, you have a diabolical cocktail that threatens the whole long-term structure of UK climate change and energy policy."
The debate over climate change has intensified over recent weeks as floods, heavy rain, and winds of over 100mph have battered the UK.
Speaking on Sunday, Dame Julia Slingo, the Met Office's chief scientist, said that "all the evidence suggests there is a link to climate change".
However, Climate Change and Energy Secretary Edward Davey faces an upward battle in Parliament as the Environment Secretary, Owen Paterson, repeatedly played down fear over climate change.
With the situation worsening though, the government pledged unlimited money to tackling the floods.
Speaking at Prime Minister's Questions on Wednesday, David Cameron said: "Money is no object. We will spend whatever is necessary."
On Thursday there were 14 severe flood warnings on the River Thames, with levels in Kingston hitting 5.4m earlier in the week.
Image courtesy of Ben Cawthra/REX