Hundreds of gamers and cosplay enthusiasts celebrated the closing weekend of the London Games Festival in a parade in Central London last Saturday.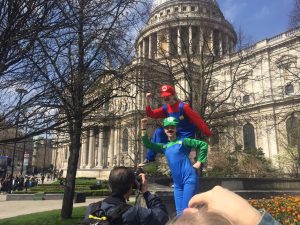 The Games Character Parade, which is running in its third year, saw people take to the streets dressed as their favourite video game stars.
From Lara Croft and Draco Malfoy to the Mario brothers, they travelled a 30 minute planned route, starting from Guildhall Yard, before going on to St Paul's Church Yard, then back again. Later in the day, there was a contest for the best costume.
The parade was one of the last events in this year's London Games Festival, which ran from April 5-15 and offered 400 games across different London venues.
Festival goers had the opportunity to experience brand new games and the latest technologies, including Virtual Reality and Augmented Reality games.
The Character Parade was kicked off by Ms Kitty Powers, a video game developer well known in the cosplay scene from 12:30 pm.
Power, who describes herself as a "video game developing drag queen", said: "The London Games Festival is very important, because it raises awareness to the mainstream public about video games, and it also gives the gamers a chance to get dressed up in cosplay and get out in the streets and do something a bit more sociable."
Many of the attendees came as part of families, often dressed in similar costumes.
Andrea Silvia, who was dressed as Harry Potter character Bella Lestrange, came with her son who was dressed as Draco Malfoy.
She said: "We love the festival. It is the second year we've come… It's brilliant. Everybody has a brilliant time."