Kingston and Surbiton MP Ed Davey was among dozens who partook in the bizarre sporting event Surbiton Ski Sunday on October 15.
The annual ski competition returned to St Marks Hill for its ninth year.
The event, which sees participants strapping two blocks of ice to their shoes and skiing down a plastic track covered in washing up liquid attracted a cheering crowd from 11am.
Spectators cheered as competitors tried to stay upright, although many skiers had no ice on their shoes by the time they reached the bottom.
The fastest skier this year was Jonathan Wyatt who completed the course in an impressive 10.31 seconds.
This fell short of the sport's current world record of 9.97 seconds, held by Jesper Hedlend from Sweden.
Davey braved the slope for a third year. He said this "was my personal best this year in skiing… so I'm very very pleased".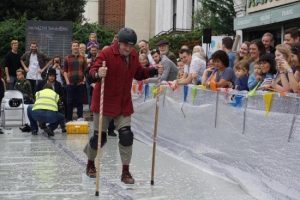 However, it was the first year he partook in the luge challenge, in which groups of two people were pushed down the track in a bath.
The MP also praised the event for fostering a community spirit.
He said: "I mean you know it's a mad, wacky, zany idea and people are having a lot of fun and people are coming together and it's part of what is brilliant about Seething Surbiton.
"We have the sardine festival, we have the king's soup this afternoon and we have a whole range of things and they have been going about seven or eight years, but it really puts Surbiton on the map."
Other participants shared the MP's sentiments.
Seb Kelly, a musician from Barnet who completed the track in 23.65 seconds said: "It's got everyone here. Everyone's like really happy… chatting to each other."
However, the event did not all go to plan.
London Ambulance rushed onto the scene after a female spectator was injured when the ice from a skiers shoes accidentally landed into the crowd.
Competitors continued skiing while the paramedics took the injured woman in an ambulance.
Edible medals
Edible medals were awarded to the individual and teams with the fastest times.
Surbiton resident Wayne Hughes who was awarded a medal as part of a team effort said he was "ecstatic" and was "going to have a few beers" to celebrate.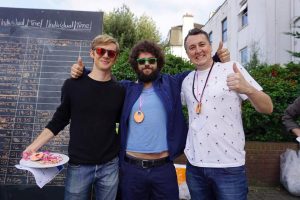 Donations collected on the day have raised money for Shooting Star Chase, a children's hospice charity based in Hampton and Guildford.
Organiser Robin Hutchinson was pleased with the turnout to the event . He said: "It's got such a lovely spirit. The fact this many people come is amazing to me."
Hutchinson who also organises other local events highlighted the importance of community.
He stated: "We've got to find things that bring us together… What can cross a continent is a smile".