The number of new people sleeping rough in Kingston Upon Thames increases every year with most individuals listing the reason as housing-related.
Statistics revealed by CHAIN, a database funded by the Greater London Authority, show that the number of new people recorded sleeping rough in Kingston has gone up by at least 25 every year for the last five years with a total of 86 rough sleepers being recorded in the borough in 2018/19.
"The main driver of homelessness is the cost and affordability of housing, particularly in the more affluent areas," said Melissa Kerschen, director of communications at homelessness charity Glassdoor.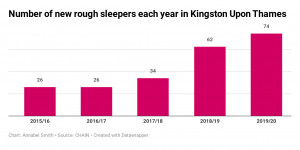 The number of new rough sleepers in the Kingston in 2018/19 went up by 62 while the projections for this year indicate that this number could increase again to 74 new rough sleepers in 2019/20.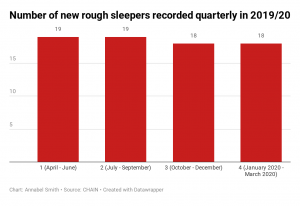 Reasons for increasing homelessness in Kingston
The causes of homelessness in Kingston Upon Thames in 2018/19 ranged from problems relating to housing, employment and a breakdown in key relationships.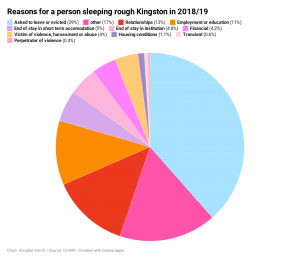 'Asked to leave or evicted' was the most common reason listed by individuals sleeping rough in Kingston.
Of the 432 people who fell into this category across London's 'outer boroughs' 330 were forced to leave accommodation due to financial difficulties including outstanding rent payments.
"Social housing in general is being decimated and we're seeing housing benefits not covering the cost of housing, especially in urban areas like London," said Kerschen.
Unsurprisingly, the second most listed reason as the cause for an individual's homelessness was employment including the loss of a job or a person struggling to find employment.
This was followed by a breakdown in relationships and financial problems which is broken down into subcategories including problems relating to debt and problems relating to housing benefits.
Operations director at Kingston Church Actions on Homelessness Matt Hatton said that the most common reason for homelessness in Kingston that he had come across was a breakdown of a relationship but that this usually pointed to another primary issue.
"When you drill down to look at why that relationship broke down then you've got a whole load of other underlying reasons," said Hatton.
He explained that these underlying reasons regularly referred back to issues relating to finance.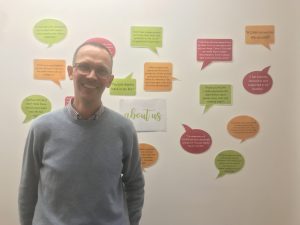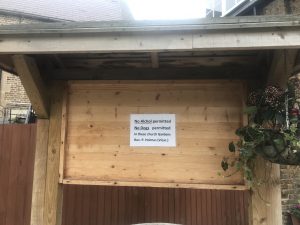 (L) Matt Hatton, Kingston Churches Action on Homelessness (KCAH) (R) A sign outside KCAH
A lack of social and affordable housing
Rising house prices have meant it has been more difficult for individuals on lower incomes to buy a property to live in permanently. They therefore turn to social and affordable housing.
Former British Prime Minister Margaret Thatcher introduced the 'Right to Buy Scheme' in 1980 allowing individuals to buy their council homes for a discounted rate.
The lack of social and affordable housing due to 'Right to Buy' has been significantly worsened by recent years of government austerity and councils have continued to sell houses but simultaneously have not had the funding to replace them.
"It's no longer a guarantee you're going to get that golden ticket, a council house," said Hatton.
Kerschen emphasised the need to build more affordable and social housing but said it was difficult to enforce because developers were reluctant to build it when other building contracts were more profitable.
"There needs to be a plan put in place where we make sure developers aren't able to sneak out saying I can no longer build this high rise if I have X per cent of reduced rent as it doesn't make it profitable. There needs to be another solution that isn't just reliant on private developers who always seem to fall through," she said.
Kingston Council has had plans to build and manage 79 new homes including some affordable ones approved by its Finance and Partnerships Committee but it is awaiting approval of the full council.
Affluent areas
Kerschen said that affluent areas, such as Kingston, have surprisingly high rates of rough sleepers due to higher rent and living costs.
"In affluent areas that [availability and cost of housing] can be felt even more acutely. Kensington and Chelsea is the richest borough and it has the third-highest rate of homelessness," she said. "A lot of these areas you would think are relatively wealthy boroughs. These are places where we're seeing a growing number of people looking to us for emergency shelter to get off the streets."
Temporary accommodation
In December 2019 homelessness charity Shelter listed Kingston Upon Thames as one of the top 30 boroughs for high levels of homelessness people, including both rough sleepers and those in temporary accommodation.
Temporary accommodation is provided by the council for individuals who declare themselves homeless. These can be referred to as Bed and Breakfasts.
"These people [in temp accommodation] are still effectively treated as homeless. That is a real issue that the council needs to tackle because from my point of view that would be from the lack of affordable housing and the shortage of social housing," said Hatton.
In 2018/19 61 people were recorded sleeping rough in Kingston who had declared their reason as 'end of stay in short term accommodation.'
These individuals had left or been evicted from provided accommodation and had to return to sleeping rough.