Drivers in Kingston spend an average of 12,534 hours in traffic delays in a lifetime and produce more than 18,000 kg of carbon emissions per car, according to data commissioned by energy comparison company SaveOnEnergy.
The level of carbon dioxide (CO2) emissions produced from those vehicles spent idling in traffic delays in Kingston were the fifth lowest across London boroughs but were still 76 per cent higher than the UK average.
Traffic delays in the UK over a lifetime average at about 7,247 hours – from the average age of 20 when drivers get their first car up to senior age. That amounts to 10,304 kg of carbon emissions per vehicle.
By comparison, Kingston's traffic jams accumulated 18,108 kg of CO2 emissions over a driver's lifetime.
Unsurprisingly, the City of London is the worst offender overall with delays producing 61,796 kg of CO2 emissions, which is 508% higher than the national average.
The best performing local authority in London is Havering with 11,564 kg of CO emissions per vehicle. Drivers spend on average 8,004 hours in delays over a lifetime.
Silviya Barrett of Campaign for Better Transport said the pandemic has pushed more people to use their cars rather than public transport, leading to congestion and worsening air pollution.
She said: "Cars and vans are the main sources of air pollution and carbon emissions from transport so we need fewer as well as cleaner vehicles to address climate change and improve air quality.
"No one likes being stuck in traffic so we need to start encouraging more people back onto public transport. More bus and cycle lanes and encouraging car sharing can all help to reduce traffic and tackle congestion on our roads."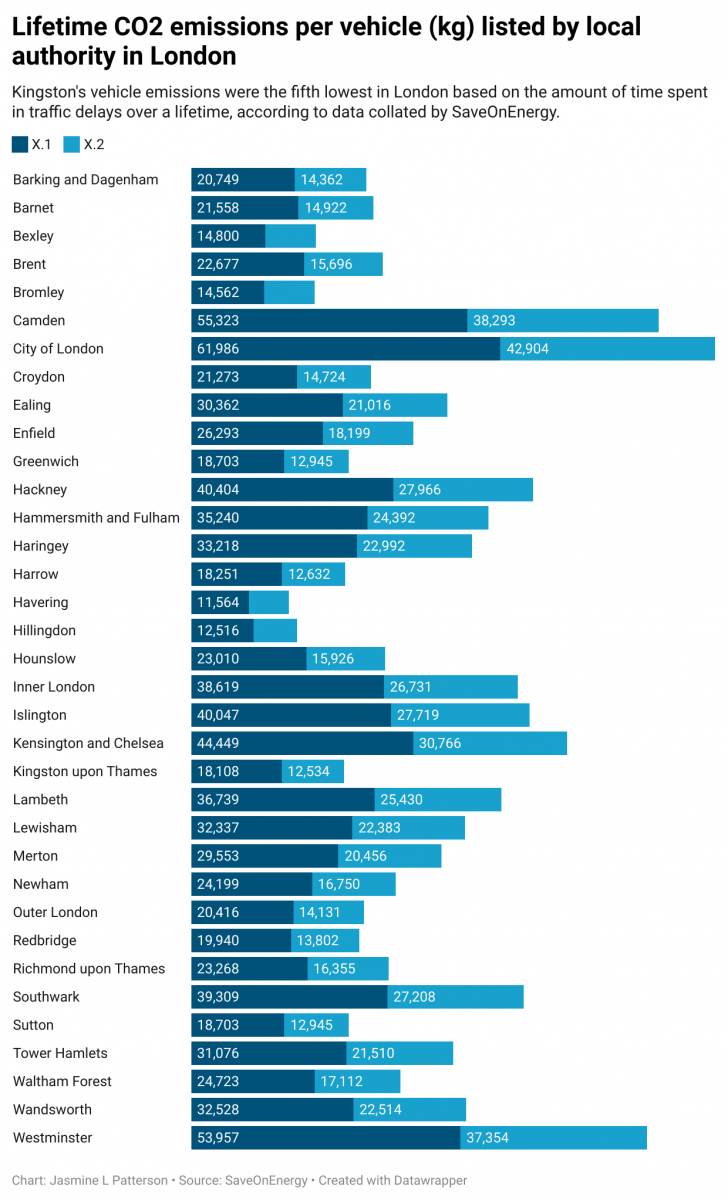 Scientists have identified carbon dioxide as one of the major greenhouse gases contributing to the accelerated pace of climate change. Countries, including the UK, have signed up to the Paris Agreement treaty which aims to set a cap on global warming levels to 1.5 degrees Celsius compared to pre-industrial levels.
The rapid warming of the Earth's atmosphere is understood to affect weather patterns, intensify the strength of hurricanes and cyclones, increase wildfires, drought and disrupt food supplies.
The Royal Borough of Kingston (RBK) Council's Environment and Sustainable Transport Committee declared a climate emergency for the borough in June 2019 and set a goal of making the area carbon neutral by 2038.
It also pledged continued investment in alternative transport such as improving cycle lanes, installing electric car charge points, support parking areas for e-bikes and plant 2,000 extra trees by 2022.
Mums for Lungs is a London-based group of parents lobbying for air pollution levels to be reduced to combat air pollution. The group said children in Kingston are 47% more likely to be admitted to hospital for asthma related problems above the average rate in England.
A spokesperson for the group said: "This isn't right or fair. Most NO2 (nitrous dioxide) comes from diesel vehicles, which is why we're calling on the next Mayor of London to commit to all buses in London being zero tailpipe emissions by 2030.
"It's unfair that air pollution from diesel buses is 62% higher in London's most deprived areas compared to the wealthiest. Cleaning up our buses is one part of addressing the health inequalities of air pollution."
To produce the figures, SaveOnEnergy used government statistics to find the average delays per local authority and multiplied it by the average fuel consumption of an idling car (one car uses 0.16 gallons of fuel per hour while idle) to calculate the level of CO2 produced.
Kingston placed 116th out of 159 in England's regional authorities overall lifetime CO2 emissions rankings, according to SaveOnEnergy's data.
Latest posts by Jasmine L Patterson
(see all)