Kingston University health centre gave out its first Covid-19 vaccination on Tuesday, December 15.
The University branch of the Fairhill Medical Group is one of the first temporary centres in the capital to offer the Pfizer BioNTech jab against coronavirus to the most vulnerable in the local community.
Kingston resident Natalie Crew said: "I'm really proud Kingston has its own vaccination scheme at our local university and pleased to see the University working with the local community to deliver a potentially lifesaving vaccination program."
She said it is "great to see the University support our local community in this way".
Fairhill Medical Practice GP Richard Van Mellaerts said he felt proud that his surgery was one of the first in the country to dispense the vaccine.
The practice aims to vaccinate approximately 350 people per day and administer up to 1,500 vaccines before Christmas with patients set to return in three weeks for a booster shot.
It is starting with the highest priority group of those over 80 and is contacting patients for appointments.
Van Mellaerts said: "We have seen across the world how Covid-19 affects people. It's not like the flu or a normal virus – it is very contagious and dangerous, particularly to the elderly, so we're keen to get everybody vaccinated as soon as we possibly can."
'Massive relief'
One of the first to receive the vaccination was 87-year-old Alan Burdis, from Kingston, who was anticipating the freedom the jab would bring him.
"I was so excited when I got the call inviting me down to the centre. It gives me huge reassurance and is a massive relief after such a tough year," he said.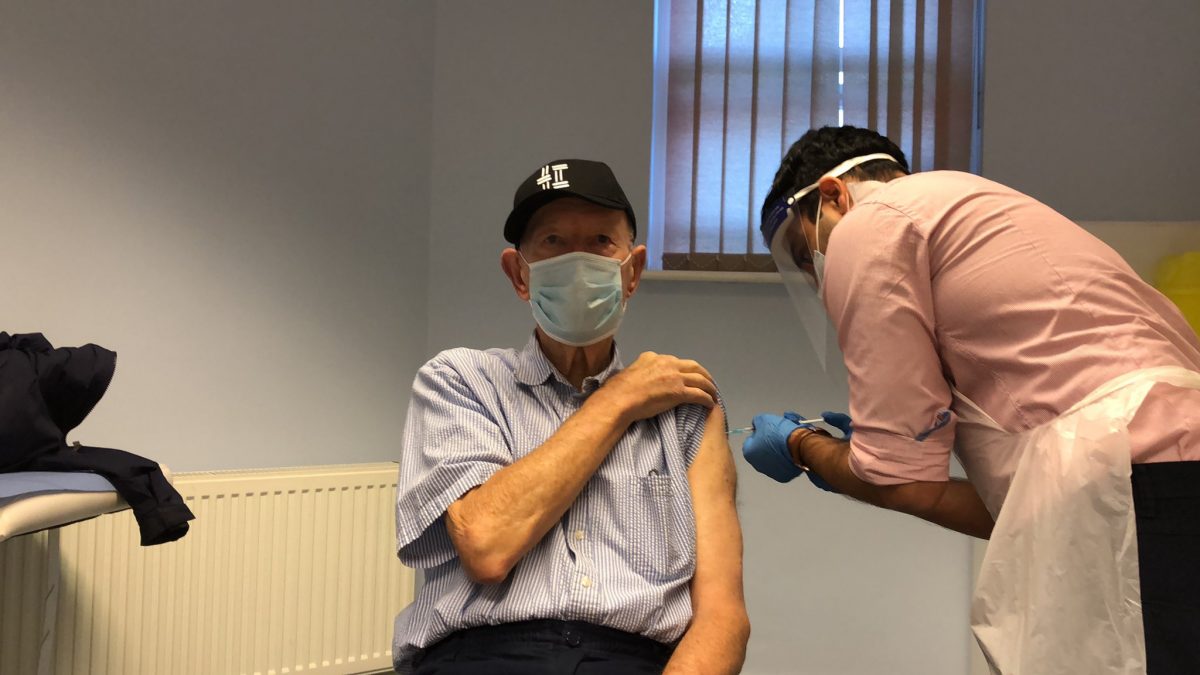 Freda Jordan, 81, who used to work as a cleaner at Kingston University 50 years ago, as was delighted to be back on campus to receive the vaccination.
She said: "It's lovely to come back to the University after all this time. It's certainly changed a lot since I was here.
"I'm very happy to have the vaccine. It's important people do take it up if they are offered as we all want to get back to normal life."
Van Mellaerts stressed the importance of following government guidelines and urged "if you do get invited to get immunised, please do so".
"In the meantime, it's also really important that everyone keeps being sensible and following the hands, face and space messaging. This will not only keep us all fit and healthy but will prevent others from getting ill as well," he said.
Community effort
The launch of the vaccination comes weeks after the University opened a Covid-19 testing centre to offer free, rapid tests to students and staff who were not displaying symptoms.
Both the testing and vaccination centres came as a result of partnerships between Kingston University, Kingston Council, Kingston Hospital and a network of healthcare providers across the Borough.
Van Mellaerts said: "This was an incredibly complex project to bring to fruition, but Kingston University has been fantastic in allowing us the use of its site and providing volunteers and security to help.
"We couldn't have achieved this without its support.
"The launch of the vaccination programme has been an incredible community effort."
The UK has begun a mass vaccination programme against Covid-19 aiming to immunise tens of millions of people within months.
Read more: Can we trust a coronavirus vaccine?
Latest posts by Natalie Crookham
(see all)