Kingston University fine art graduate Emily Vanns hosted a lino printing craft workshop at Not My Beautiful House, Fife Road, Kingston last week.
Vanns graduated with a BA in Fine Art in 2014, and has gone on to have her work exhibited nationally. She has also been selected for competitions, including The Ruskin Drawing Prize and The Royal Watercolour Society.
After graduating, Vanns found her work had taken different forms, from large-scale painting to drawing and sculpture. She had to give up her studio space in 2018 and began working at a smaller scale, experimenting with lino printing.
Since 2019, she has been running lino printing workshops as well as other projects. "A recent highlight for me was working with Crossbones Graveyard in London Bridge, illustrating a booklet for the PhD research of Lucy Talbot," she said.
The evening provided an exciting opportunity to explore the process of lino printing, where a design is carved into a linoleum block, then ink or paint is rolled over the block and paper is pressed onto it to produce a print.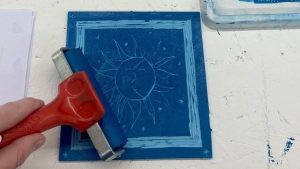 "It sparked my ambition to do more"
Participants were left feeling inspired, and took their prints home along with the original lino block they had carved, allowing them to experiment further with the printing process at home.
Lien Nguyen, a third year Creative and Cultural Industries: Art Direction student at Kingston University, said: "I'm so glad to have participated in this workshop! It was so fun getting to know new people and most excitedly it sparked my ambition to do more lino printing at home!"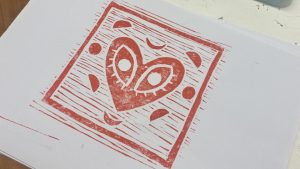 Vanns said: "My recent workshop with Kingston Union was the first time I had been back since studying! It was a small and intimate group but it was such a lovely experience. It was so interesting to hear how current students experience Kingston and how it's changed."
She also spoke of the benefits of coming to workshops, hoping to encourage more students to try something out their comfort zone. She said: "What's great about workshops is they give you the opportunity to experiment before you commit to buying lots of tools and materials! Even if you are feeling nervous or think you won't be any good, try it anyway!"
A short history of linoleum
Lino printing was developed by using linoleum, which was invented by Englishman Frederick Walton when he was experimenting with different materials for flooring. He found that linseed oil oxidised and created a film, becoming linoleum which he patented in 1860.
Walton then took over a mustard mill factory to manufacture durable floor coverings, and founded the Staines Linoleum Company. This company achieved worldwide success over many years, with exports to Europe and the United States.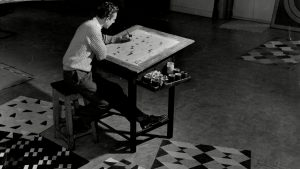 Events to look out for
Not My Beautiful House will next be hosting Christmas markets each week in December. The venue is managed by Union of Kingston Students and Studio KT1. Students, alumni and local creatives can hire the space to showcase projects or hold events as well as selling their work, with 80 per cent of every sale going back to the creative.
Claire Selby, Enterprise Projects Lead said: "Not My Beautiful House is a student-led project offering residents from Kingston, students and graduates the chance to sell their products, exhibit their work and host workshops for the community all in one space. The initiative is a collaboration between Studio KT1 and Kingston Union of Students.

"The project began in May 2021 after a successful crowdfunding bid for Mayor of London's Make London fund, topped up with an investment from Royal Borough of Kingston council, Canadian and Portland and many other donations.
"We have had over 10,000 visitors since May [2021]".
Vanns is also currently preparing for the festive season, and will be at various Christmas markets including Bow Arts Trust Makers Market in Bow on December 5, and Mildmay Christmas Market in Newington Green on December 18.