Gregory Porter, double Grammy Award-winning soul and jazz singer, was finally able to perform at The Royal Albert Hall during the 150th anniversary season last week, after his four shows had been postponed twice due to Covid-19 regulations.
Porter won a Grammy Award for Best Jazz Vocal Album Liquid Spirit in 2013 and Take Me To The Alley in 2016. He previously sung at Royal Albert Hall in 2019 with a one-time special performance of album One Night Only after three sold-out performances at the Royal Albert Hall in 2018.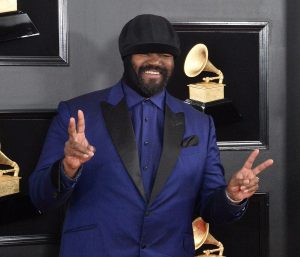 Georgia Cécile, the supporting act for Porter, opened the show on Saturday evening by performing songs from her debut album Only The Lover Sings. The Scottish jazz vocalist looked sensational in a pink kimono style dress.
Porter, accompanied by a symphony orchestra, adorned the stage in a stunning purple blazer, white trousers and his signature cap and balaclava. His astonishingly powerful vocals connected the audience to the stories he tells through his songs.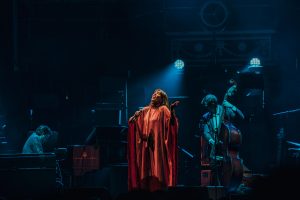 After performing songs from his new album Still Rising, he spoke about how Concorde from All Rise album was written on a plane to the UK. He explained how he often writes songs when he is travelling.
On this flight he joked that he was told not to write on the flight menus and to "shush" by a flight attendant whilst he sang melodies into his phone.
Porter mentioned his brother, Lloyd Porter, who died due to Covid-19 complications in 2020. He told fans his brother had owned a coffee shop, Bread Love, in Brooklyn, New York. Lloyd gave customers cups of coffee as well as directions, advice and grew close with members of the community.
Lloyd was thought to be responsible for a local baby boom in the neighbourhood because many people were born from love found at the coffee shop. A member of the audience who was visibly moved by this, approached the stage handing Porter a single red rose in memory of Lloyd.
Porter also talked about his experiences of racism. He referred to his childhood when he wanted to go out with a girl from his neighbourhood for soda and ice cream and said he was judged by the colour of his skin and told "get out of here you".
"Other little Gregorys with brown skin and a gentle heart…they just want to be regular guys and regular girls," he said.
After this sombre moment the audience was uplifted with a phenomenal saxophone solo, and he performed hit songs Hey Laura and Holding On. Fans pulled out their phones to illuminate the room and the auditorium twinkled with lights.
As the show was coming to an end, Porter took a moment to thank the orchestra, the conductor for the beautiful arrangements and each member of his team for their support. He asked the audience to join his band and told them to rise and performed the final song of the night, You Can Join My Band. Before leaving the stage Porter blew kisses into the crowd.
Gregory Porter's upcoming new album "Still Rising" is scheduled to be released on November 5th 2021, and tickets for May 2022 are available on www.ticketmaster.co.uk
Georgia Cécile's debut album "Only The Lover Sings" is available from her website www.georgiacecile.com