A new sculpture trail through Kingston has brought seven installations of new modern artworks created by world class artists.
Residents and visitors can follow the trial which spans from the Market Place to Canbury Gardens and vote for their favourite artwork by October 31st. The winning artwork will become a permanent installation in the town centre after the trial ends. The winning artist will also receive a £10,000 prize.
Councillor Rebekah Moll, Portfolio Holder for Culture said: "The launch of Kingston Sculpture Trail features seven wonderful new artworks that will encourage residents and visitors to come and enjoy the trail in the town centre. We are so excited to be part of this innovative project that supports arts and culture as an integral part of our wider economic recovery."
The artists displaying sculptures in the trail include; David Begbie who works exclusively with the human form, Richard Trupp who specialises in large-scale works, Roger Clarke senior lecturer at Bath School of Art, Marigold Hodgkinson who has many installations across Europe, Alex R T Davies who runs Milwyn Casting, specialist bronze casting foundry near Kingston, Stefan Jovanović, architect and performance maker and Jack Hardy who has eight years experience designing award-winning play spaces. Five artists are members of the Royal Society of Sculptors.
Earlier in the year artists were invited through an open call to submit an entry for the trail. A selection panel chaired by world renowned artist, David Mach RA, choose the winning sculptures to be included on the trail.
The panel also included, Mayor of Kingston, Sushila Abraham, Kingston School of Art lecturer Angela Ford, Honorary Fellow of Kingston University Paul Stafford and two local students.
Dean at Kingston School of Art, Mandy Ure, said: "I'm delighted that Kingston School of Art and Kingston University have been able to support this exciting project for the borough, and know that these commissions will be great additions to the town centre. The chosen sculptures will engage visitors through their story-telling, creativity and playfulness to encourage participation in their environment and offer a moment for reflection."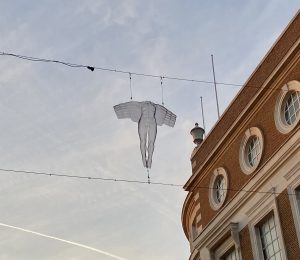 AANGEL by David Begbie is located dramatically suspended above Clarence Street between Barclays Bank and the Bentall Centre, showing an angel figure watching over Kingston acting as a guardian.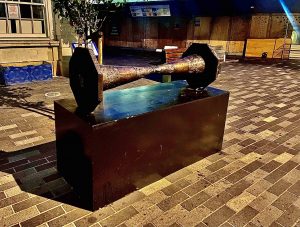 THE KISS by Alex R T Davies is located in Kingston Market Place on the north side of Market House. This sculpture is part of series titled Unwanted Monuments. Bronze street cones create a kiss which was inspired by Rodin and Brancusi's piece of the same name. The sculpture shows an intimacy between everyday ordinary objects with no gender or race.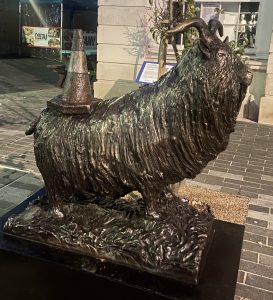 PARTY ANIMAL by Alex R T Davies is located in Kingston Market Place on the north side of Market House. This sculpture is part of the same series Unwanted Monuments and shows a proud bronze goat with a street cone on its back. Onlookers are invited to reach out and touch the piece.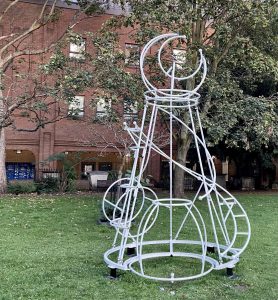 MOUNTAIN by Stefan Jovanović and Jack Hardy is located in Memorial Gardens. Made from steel, the frame is designed as a symbolic fireplace for gatherings and offerings. Viewers are invited to sit and listen to the sun, wind and rain. The steel frame twists together creating the illusion of flames.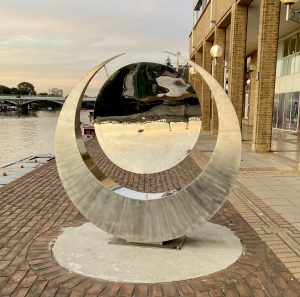 TIME AND TIDE by Marigold Hodgkinson is located at the riverside behind John Lewis, north of Kingston Bridge. A mirrored gong is suspended between a stainless-steel crescent moon. The sculpture creates different light reflections by swaying in the wind, ever changing in its environment.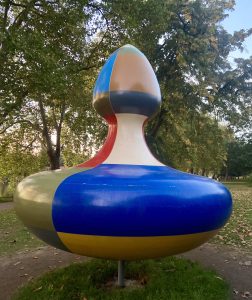 KINGSTON SPINNING SCULPTURE by Roger Clarke is located in Canbury Gardens. Viewers can interact by spinning this colourful sculpture creating a moving and colourful image.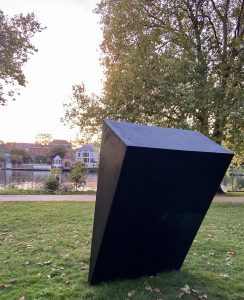 THE JUGGERNAUT OF NOUGHT by Richard Trupp is located in Canbury Gardens. This large wedge-shaped sculpture creates a moment of rest and celebrates the industrial heritage of the Thames riverbank.
The trail was organised across between a partnership between Kingston University, Kingston Council, Kingston First and Canbury Community Trust.
David Mach said: "We're on the streets now and the public has their chance to express their opinion and pick out their favourite sculpture."
Vote for your favourite sculpture here https://www.kingstonfirst.co.uk/sculpture-trail/