The Kingfisher Triathletes club has suffered a serious blow to its member numbers since the start of the Covid-19 pandemic and has struggled to make financial ends meet.
At the end of 2019, the club, which prides itself on being an inclusive triathlon club that caters for all levels of ability, had 75 active members.
But after the disruption of national lockdowns and restrictions, in 2020 the number went down to 45.
Membership secretary Graham Bleakley said: "It was tough. We found it very financially tough for the club."
The experience of the Kingfishers is not unique and is reflected in national data, with clubs up and down the country unable to escape the disastrous ramifications.
When the UK went into lockdown two years ago, members of the public had to come up with at-home alternatives to their day-to-day exercise habits.
Sports clubs around the country were forced to cancel training sessions and matches.
Though they did their best to be adaptable, data shows that many sports have suffered significantly during the pandemic.
In its annual 'Active Lives' report, Sport England – the public body run by the Department for Digital, Culture, Media and Sport – found that many sports experienced a decrease in weekly participation levels.
Insight director of Sport England Lisa O'Keefe said: "Despite the huge effort from activity providers to adapt throughout the year, and continued efforts by the population to remain active, the disruption has had a significant impact upon not only our activity levels but also the number of activities we take part in."
The study found a significant decrease in walking and cycling for travel due to many people being unable to go to work and school in person.
By contrast, many people took up walking and cycling for leisure as a form of outdoor escape and exercise when stuck in lockdown.
Whilst many sports suffered, participation in individual outdoor activities such as running, golf and equestrian did not drop off.
The local impact
In line with the national statistics, local Kingston sports teams and clubs suffered the blow of the pandemic and restrictions.
Kingston Rugby Club felt the strain of the pandemic on membership numbers.
Head coach Phil Clements said that they expected the return to play to be welcomed by members. "It has been the opposite," he said.
He said that after strict guidelines such as the 'stay at home' rule and the one-hour exercise rule, numbers slightly increased as people wanted to get out and exercise.
Yet once it came to the season, attendance was down: "At the moment, people don't seem to want to commit to things as much as perhaps two or three years ago. That is maybe because they realised there's more things to life."
He said that the club was aiming to increase participation by promoting the club's inclusivity.
"We have tried to open it out to be a more family orientated thing. We're trying to encourage local people to attend [training or matches] and bring friends."
Kingstonian Cricket Club was also hit by the pandemic, but third team captain Dhruv Singh said that attendance levels were not drastically impacted once the country opened up again.
He said that nationally, cricket competitions were postponed even once teams could return to play in the summer of 2020.
This restriction on competitive matches was disappointing for the club's players.
"I could see that half my team wasn't motivated to play because they just said I'm here to play a friendly game and I feel like it's not counted for much. There's no motivation for the player."
Players also had to be very careful when following sanitisation guidelines.
Singh said: "It is quite natural for a bowler to lick his finger and toss the ball, so a lot of players had to get out of that habit for the entire season.
"But we were quite conscious about who's tossing the ball and we sanitised the ball every six overs (on average an over lasts around 5 minutes)."
In contrast to the Kingfisher and rugby clubs, in 2021 the club saw a spike in numbers.
Singh said: "The league was back on. Players were motivated to come back and play because they had been stuck at home too long.
"I myself was motivated to play a few more games because I was just working from home and there was nothing stopping me from going out to play."
Bleakley from the Kingfisher Triathletes, who has been at the club for 15 years, said: "There were no events for people to train for and that's really what drives a lot of triathlon participation.
"There wasn't anything to recruit for. That was the problem. There wasn't anything driving it because everything just shut down."
Club captain Heather Waghorn has been a member for five years and said: "We didn't know what we're going to be doing two weeks in advance. Nobody wanted to commit to training for something that might be pulled or because you might test positive [for Covid-19].
"We really did benefit from this sort of strong core group of people [of around 40] who were just passionate about the club and didn't want to let it go."
Bleakley highlighted that the club helped many members through a tough time of isolation and uncertainty.
He said: "[Sport] is essential. I love swimming and without that it would have sent me insane, basically. I think a lot of people got benefit from it, in terms of keeping them going through [lockdown]."
Despite restrictions being lifted and a return to the new-normal, the club's membership is still wounded, with around 39 members attending at the start of 2022.
The positive attitude and ethos of the club remains the same though. "Anyone can do it. It's quite empowering and you really start to realise what you're capable of," Graham said.
The future of sports participation is unclear, with many people taking up alternatives to their pre-pandemic sports, and local clubs like the Kingfishers are experiencing the fallout.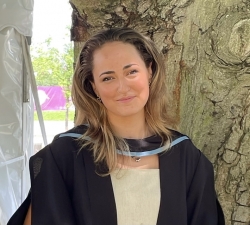 Latest posts by Olivia Jones
(see all)