Kingston residents worried about emission charges are among thousands to sign a petition against the Mayor of London's expansion of the Ultra Low Emission Zone (ULEZ) to all outer London boroughs.
The expansion will come into effect by the end of 2023 and was announced this month by the Mayor of London Sadiq Khan.
The petition, which has been signed by more than 45,000 Greater London residents, has taken a stand against the ULEZ due to many of the boroughs being residential areas in which cars are necessary.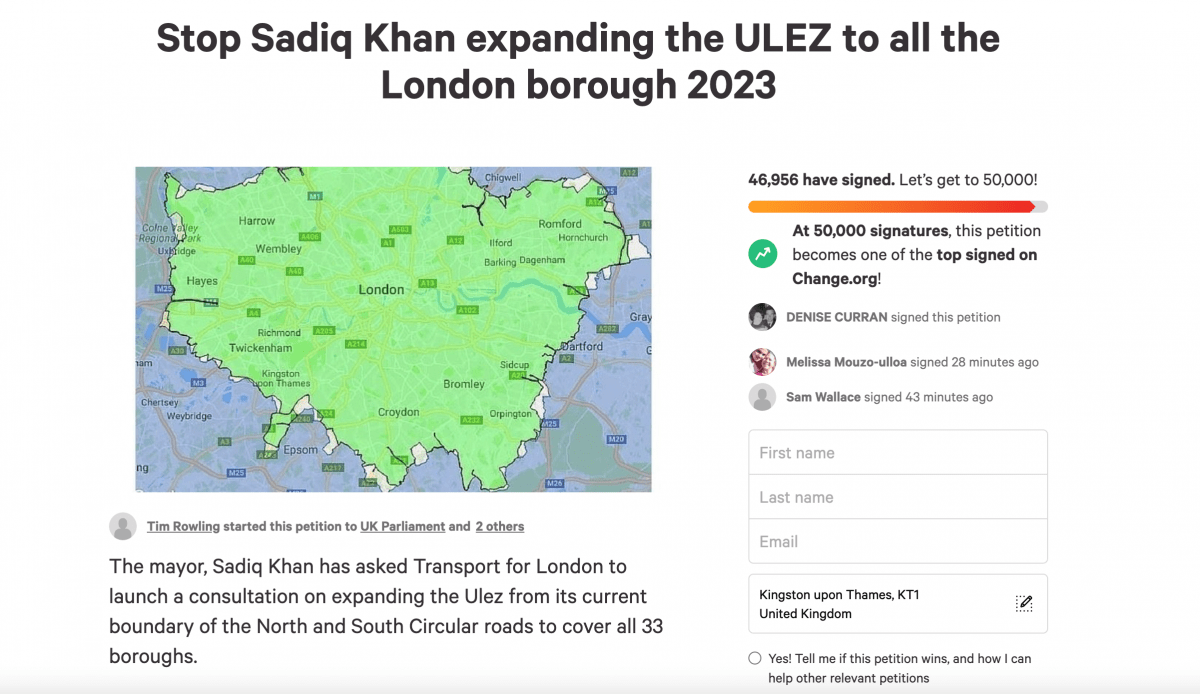 The ULEZ operates 24 hours a day, every day of the year except Christmas Day. Motorists must pay a £12.50 daily charge unless their vehicles meet the emissions standards.
The ULEZ standards that are required are:
Euro 3 for motorcycles, mopeds, motorised tricycles, and quadricycles (L category).
Euro 4 (NOx) for petrol cars, vans, minibuses, and other specialist vehicles.
Euro 6 (NOx and PM) for diesel cars, vans and minibuses and other specialist vehicles.
The air quality in Kingston Upon Thames is monitored by IQAir. The expansion will aim to reduce air pollutants, meaning that residents will breathe cleaner air.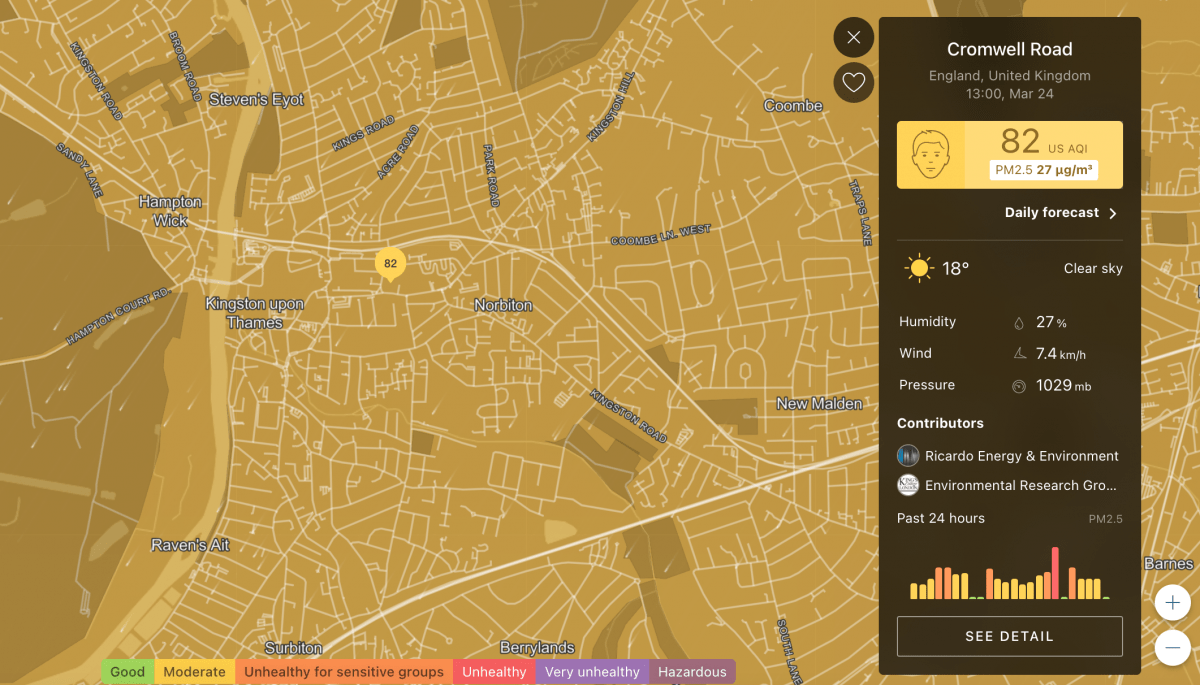 Local support counteracted by hesitation
Kingston residents were worried that the £12.50 daily charge would lead to financial hardship for many families, whilst others feared that the expansion would lead to a decline of shops in Kingston.
Buying specialist Stephanie Cassidy, 58, said that lower income families would be the most affected. She said: "[They] the most likely to drive old cars, and the least likely to be able to afford new ones."
Student Jude Currie, 20, said: "I disagree with the possible ULEZ expansion to Kingston. Since Covid-19 things have been hard for people and so many can't afford to upgrade their vehicles."
Mother and HR manager Georgina Campbell, 43, agreed. She said: "[I] feel totally penalised and who benefits? Not retail and not residents.
"Riding a bike does not suit all needs when you have to do weekly food shops, carry a young child and a baby around. They have also reduced trains and you often can't get on a bus with a buggy."
Many Kingston locals agreed with the expansion yet many thought that it would have been better if they had more time to prepare for the change.
Writer Tim Franko, 30, said: "Policies to tackle climate change need to be implemented. What the government can do to make it smoother is introduce incentives to help people get vehicles which abide by the new rules."
Adam Sheppard said: "I agree with the ULEZ changes even though this affects me the most as I have two gas guzzlers and there is no easy way that I can replace either.
"My issue is that we are only being given a few months to adjust for these changes and not being given options to convert our cars."
Jordann Pinnock agreed. He said: "The expansion is needed if we want health to improve in the city. Public transport around here is already pretty good, so many people who drive for the sake of it probably don't need to, me included.
"A way of helping people who can't afford to replace their current car with something more modern would be a good way to get the public on board, as otherwise it is another cost being piled on to us at a time where living cost is already ridiculous."
Other residents were more on board with the quick change and believed that locals' respiratory health should be a priority.
Musician Nicholas Johns said: "The bottom line is that we have to reduce pollution and carbon emissions. People don't seem to want to do it voluntarily, so the screws have to be tightened.
"The climate crisis is a long-term issue that we have to tackle immediately. It is bigger than all of us."
Tackling pollution and climate change
The Mayor of London has implemented plans to improve pollution levels in the area and said that expanding the ULEZ is one step towards lessening the impact residents have on climate change and fume pollution.
Khan said: "I'm determined that we continue to be doers, not delayers in London – not only to protect Londoners' health right now, but for the sake of future generations to come.
"It's clear the cost of inaction – to our economy, to livelihoods, to the environment and the health of Londoners – would be far greater than the cost of reducing toxic air pollution, tackling the climate emergency and cutting congestion."
Pollution in big cities such as London has become an increasing worry for residents and health authorities. Charities including Asthma + Lung UK have been calling for more action to take place for many years.
Chief Executive of Asthma + Lung UK Sarah Woolnough said: "For the first time an entire UK city will be preventing the most polluting vehicles from pumping out toxic air that damages people's lungs where they live, work and play.
"At Asthma + Lung UK we have been calling for a London-wide ULEZ to help protect hundreds of thousands more people in outer London who have a lung condition like asthma and COPD and who are at risk of a life-threatening attack or flare up because of air pollution."
Mark Watts, executive director of climate change organisation C40 Cities, said: "Road transport is the single largest source of air pollution in London, leading to severe respiratory issues and devastating premature deaths.
"By expanding the world's first Ultra Low Emission Zone to encompass all of London, Mayor Khan is putting the health of all Londoners first and ensuring no-one is left behind.
"What London is doing will be keenly watched across the world, inspiring many other mayors to invest in cleaner, greener, and fairer cities."
Local action
Kingston Council has agreed to a Climate Action Plan to help Kingston become carbon neutral by 2038 which will aim to improve air quality.
Liberal democrat councillor and portfolio holder for environment and sustainable transport Stephanie Archer told the Courier: "As a council, we welcome this announcement to extend the ULEZ across London to tackle dangerous air pollution in our borough.
"The extension must however go side by side with support for disabled people and people on low incomes to make the transition away from polluting vehicles.
"We must also see more investment in our public transport system and our walking and cycling infrastructure to enable our residents to swap car journeys for more sustainable modes of transport."