World Thinking Day was celebrated on February 22, a day full of guiding celebrations where Girlguiding members think about their 'sisters' locally and around the world.
It is celebrated on the birthday of both Lord Robert Baden Powell (scout founder) and his wife Lady Olave (the first chief guide) who helped to initially run the girl guides with Robert's sister Agnes.
The young members of Girlguiding particularly enjoyed taking part in World Thinking Day celebrations this year and reflecting on why the guiding traditions means a lot to them.
Young Rainbow leader and Girlguiding advocate Emily,16, said: "Together we [girl guides] are able to reflect on our history, see how far we have come as an organisation and recognise that we are part of something so much greater and that does so much good."
A new World Thinking Day topic 'Our world, our equal future' has also been introduced. It will focus on themes of climate change and gender equality.
These themes will also run for World Thinking Day 2023 and 2024 to allow guiding members to spend quality time participating in activities and work surrounding the themes.
The aim of the theme involves taking a closer look at gender equality and issues affecting women from all backgrounds.
Girl guiding advocate Kate, 24, said: "I am pleased to see Girlguiding being bold in this vision [for the new theme], for what a future world should look like and I hope that leaders across the globe listen to our voices and take notice of the changes that girls and young women want to see."
This year's theme will also focus on the environment and how to help combat climate change.
Kate reached out beyond guiding to her colleagues at work and thought about what she could do individually for this year's 'Our world, our equal future' theme for World Thinking Day.
Girlguiding advocate, Abbie, 19 said: "This year's World Thinking Day starts a three-year journey for Girl Guides and Girl Scouts to become environmentally conscious leaders."
The aim is also to teach guiding members more about the environment, recycling and plastic pollution.
Emily said: "We recognise that we must all make changes to ensure our future and remove the worry of the environment."
For this year's celebrations, Abbie also helped members of her unit to make models out of single use plastic for the environmental side of the World Thinking Day challenge badge.
She said her girls were very creative, using plastic to make things from giraffes to desk tidies along with the unit's annual tradition of renewing their guiding promises.
For Emily, she helped her Rainbow Unit learn about Rainbows across the world and helped the newest members of the unit make their first guiding promises.
Emily said: "[I] was able to see my Rainbows recognise the global reach of Guiding, just as I had, as we celebrated all that we love about Guiding."
She said it provides an important opportunity for UK and international Guiding members to come together and celebrate it as part of our guiding units and across the globe.
A World Thinking Day themed meeting at Rainbows, when Emily first joined, was one of her earliest guiding experiences. It was a life changing time for her, as guiding has become such an important part of her life and changed her for the better.
Emily said: "It was this event that first opened my eyes to the wider role of Guiding as an organisation, and the first moment I realised I was a part of something much bigger than just my unit. I began to recognise Guiding as a community."
Kate had a similar experience as a Guide, when she went to a thinking day celebration during Girl Guiding's century year, in 2010. She renewed her guiding promise at the same time with other girls across the country.
She said: "It felt so important to be part of this bigger picture and movement, all signing up to the
same values and promises collectively. We also had a big barn dancing party that evening as well,
which was great fun.
"My main memories surround celebrating in my local Guiding community and coming together with all sections; Rainbows, Brownies, Guides and Rangers."
For Kate, World Thinking Day allows everyone involved in Guiding, from the youngest members, the Rainbows, to adult leaders, to think about their place and role in the wider global Guiding movement.
"It provides a way for us to connect, to have an outward perspective on our lives as girls and young women and rally around causes that matter to us, collectively," said Kate.
Abbie said they used to bring girls of all ages from different guiding units together to celebrate and work in groups on the thinking day challenge badge.
She said: "[It] was a fantastic chance to meet other girls in the area and make new friends. A few years ago, we made a video to celebrate, and it was great fun designing and filming it."
The Guiding volunteer said World Thinking Day allows everyone around the world to celebrate what they love about guiding.
She said: "It's nice to think that we could be doing the same activities, on the same day, as a group on the other side of the world. It also allows us the opportunity to reflect on guiding's roots and consider how it has changed over time."
The first world thinking day was held in 1926, when girl guides and girl scouts met in the United States for their fourth WAGGGS (World Association of Girl Guides and Girl Scouts) world conference.
It has become a day where girl guides and scouts globally think about each other and give thanks and appreciation to the guiding/scouting movement.
In her autobiography, Lady Baden-Powell said that although most girl guides and scouts could not visit their sisters aboard, they can think of them and reach out to them in their minds.
She said this can show how girl guides and scouts of all backgrounds, ages and nations can go into the world, spreading messages and actions of "true peace and goodwill on earth".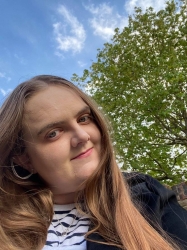 Latest posts by Chloe Sladden
(see all)