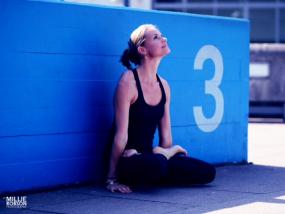 The Rose Theatre has found another way to use its space, with yoga classes every Thursday lunchtime aimed at beginners and advanced students alike.
Muriel Mueller, a yoga instructor in the Kingston area for 12 years, is running two 45- minute classes each week at 11am and 12pm, starting today (March 6).
She said: "I am hoping to motivate a new target group – maybe people who are not actively looking for a yoga class but like the idea of practising in a stunning venue like the Rose and will give it a shot.
"It has always been my aim to reach out into the community and make yoga accessible for everyone."
Siobhan Sharp, press officer at the Rose Theatre, emphasised the community aims of the theatre.
She said: "There is very much a social, community feel at the Rose so we wanted to expand on that with something that would reach out to many local people and encourage them to visit us."
She added that the Rose and Ms Mueller chose the gallery space to be away from the 'hustle and bustle' of the theatre."
However, despite the recently reported loss of over £200,000 for the theatre in 2012/13, Ms Sharp insisted the venture was not a moneymaking venture to help recoup losses.
She said: "We are not doing it for the money.
"Of course it would be nice if it proves incredibly popular, but mostly we are doing it because the gallery was available in this time slot and we wanted to fill it up with lots of classes that get the community involved."
The classes are largely aimed at people who work in Kingston and might try yoga during their lunch breaks and mums whose children are at nursery in the morning.
For more information go to Ms Mueller's website.
Image courtesy of Muriel Mueller