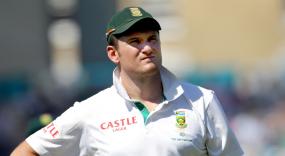 South Africa's loss is Surrey's gain as veteran captain Graeme Smith retired from international cricket on Wednesday, leaving him to take the helm at the Oval.
Smith, 33, will arrive in London in early April to lead Surrey's 2014 campaign after playing his final Test match in Cape Town where South Africa endured a nail-biting defeat to Australia.
Speaking on Monday, when his decision was publicly announced, Smith said: "This has been the most difficult decision I have ever had to make in my life.
"I have a young family to consider, and I felt that retiring at Newlands (in Cape Town) would be the best way to end it because I have called this place home since I was 18 years-old."
In reaction to the news, Kevin Pietersen, who will play Twenty20 cricket for Surrey this season, tweeted: "For what he has done for SA cricket – the man is a legend! Congrats my Surrey BFF[best friend forever]!"
Smith is widely regarded as one of South Africa's greatest cricketers, leading them to the world number one spot in the ICC Test Rankings, having being appointed captain at the age of 22.
Alec Stewart, Surrey CCC Director of Cricket, told Surrey Cricket's website: "Graeme has been an outstanding leader and player for South Africa and has been instrumental in making them the number one side in the world.
"From when I first played against him in 2003 he has impressed me immensely in everything he has done on a cricket field. South Africa will obviously miss him but we look forward to welcoming back to the Kia Oval this season."
Smith also has one of the strongest Test records of any opening batsman, with 9,257 Test runs at an average of 48.72, second only to India's Sunil Gavaskar in the all-time list.
He bowed out of the international arena on Wednesday with a disappointing 245 run loss to Australia, as South Africa lost their tenth and final wicket when only 4.3 overs remained in the match.
At the post-match presentation, Smith reflected on his career in a philosophical manner, and said: "When you get the job at 22, a lot of growth needs to happen. It took me a few years to figure out what was needed.
"This is the first series we have lost in almost eight years. We can be hugely proud of it. We have found ways to win – at home, away from home.
"Lastly I want to thank the fans. To all the people who have approached me on the streets, to all that have bought tickets, to all that have stayed up late to support us, I am really thankful."
Image courtesy of Rex Features.