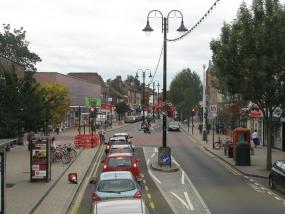 A dozen shops along New Malden High Street have been given £47,000 by the council to improve the appearance of the area and boost trade.
Those chosen for the refurbishment are the row of shops placed between Ramsey Jewellers to KW Lettings.
Andrew Sherville, Lead Officer Business Community, Royal Borough of Kingston Business, said: "The Funding is targeted at small local and independent businesses."
The dozen shops were chosen due to their 'townscape merit' status and each hold historic value.
It is hoped that the improvement scheme will attract more visitors by giving a more welcoming impression to the area and improve the quality of the area for local residents and workers too.
New Malden is now one of Kingston borough's main town centres with a population of around 28,500.
The town centre has a unique cultural influence with a variety of authentic Korean shops, restaurants and businesses along the High Street.
Suttles of Malden is among the shops to be spruced up. Andrew Ross, Suttles of Malden, said: "It is very good news – it is a very good initiative and we are looking forward to working with the Kingston borough.
"It is good to try to get more local sourcing in the borough of Kingston.
"There are lots of different things that the council need to listen to and engage with.
"A lot can be done here, but you have to have a willing partner.
"This initiative is definitely a step in the right direction."
The scheme is expected to last eight months.
Councillor Patrick Codd, Coombe Neighbourhood Committee, said: "Approved architects have been made, but final designs are still to be decided.
"Work is going to start sooner rather than later for this great scheme as it is what the residents said they wanted, as well as money coming from our budget for new pavements."
Councillor Ken Smith, said: "The £47,000 is controlled by the Malden's and Coombe Neighborhood Manager, Hannah Reece."
Improvements to these High Street shops will improve the social and economic aspects which are so vital for New Malden.
Image courtesy of Charlotte Gilhooly.