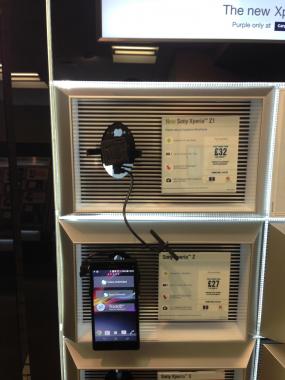 Thieves have escaped Carphone Warehouse with stolen mobile phones in a "calculated" operation.
Approximately at 2.37pm on Saturday afternoon, eight male thieves targeted Carphone Warehouse on Clarence Street, Kingston, where a NEW Sony Xperia Z1 and a Samsung Galaxy S4 were stolen off the shop floor.
Assistant manager Faisal Fatmi described the theft to be "calculated", suggesting each thief had a designated role in the operation. He said: "Four of them used decoy tactics and stood in front of the till area to distract staff members, while two walked around in browsing fashion leaving the remaining men to extract the phones."
After disguising themselves as genuine customers, it took the thieves no longer than three minutes to complete their criminal activity. The live demo phones displayed on the shop floor were mounted onto a clamp device, which was left damaged as the thieves destroyed it to gain access to phones.
Mr Fatmi added: "After reviewing the CCTV footage of the theft, it was revealed that they used tools to detach the phones from the clamps. We have reported the theft to the police and they will also be coming to view the CCTV footage."
This theft was the first to take place since the store on Clarence Street reopened in September 2013.