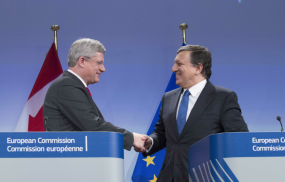 The European Union and Canada recently agreed on a Comprehensive Economic and Trade Agreement (CETA) aimed at slashing tariffs, raising agricultural quotas, and liberalising trade in services and cross-border investment. This is good news for the United Kingdom, as the deal is expected to give a £1.3bn boost to the UK economy. 
UK Prime Minister David Cameron called the pact an "historic" agreement that will prove to be "an asset for British business." UK exports are expected to increase by 29 per cent, while Canadian exports to the UK should rise by 15 per cent. CETA will create thousands of new jobs for both sides of the transatlantic market, as it is expected to boost bilateral trade by 23 per cent, or $36bn.
The results of this agreement could potentially see future vacancies in Kingston's high street filled by Canadian businesses, as well as giving Kingston companies a greater chance at expanding to the Canadian market. It could also encourage students from both sides of the Atlantic to study abroad, knowing that when they return home their professional certifications will be well received.
This agreement, expected to be ratified by 2015, seeks to slash transatlantic barriers to business, going far beyond simply reducing tariffs as most trade pacts do. Not only will 98 per cent of EU and Canadian tariffs be eliminated immediately, but will also increase the ability of EU companies to take over Canadian businesses. Under the new agreement, takeover bids of up to $1.4bn from EU companies would be treated just as those from a Canadian company.
Another highlight of the agreement is that it will allow for mutual recognition of some professional certifications and rectify differences in intellectual-property rules. Just as past agreements have made it easier for the trade of goods, CETA aims to remove barriers to the trade of services. As services generate about 70 per cent of rich-world GDP, this would constitute an ambitious new form of deep integration between continents.
It has been argued that bilateral trade agreements such as CETA simply waste political resources that should be aimed at focusing on more global efforts. Nations should be using the World Trade Organization (WTO) as a vehicle for deeper integration as opposed to taking matters into their own hands. Globalization is on the decline, and support for regional agreements will only make matters worse.
On the contrary, agreements such as CETA could begin to set a global standard for such things as drug approvals or professional certifications. It is clear that CETA will foster business and growth for both sides of the agreement. This growth will certainly extend to local UK markets, including that in Kingston. This pact is much more advantageous than anything the WTO has recently proposed.
Bilateral trade agreements are the first step in moving past the protectionist policies that have plagued the global markets as of late. The EU and the United States have already begun negotiations over a Transatlantic Trade and Investment Partnership. More agreements such as these are the precursors to very exciting advancements for both local and global markets.
Image courtesy of Rex Features.