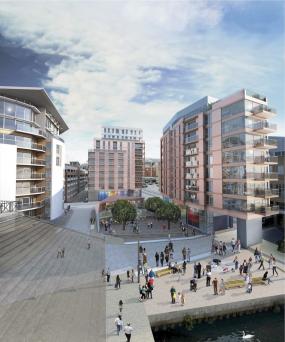 The proposal for the Thames Side Wharf development has been given the green light by the council.
The proposed development, which will include three buildings surrounding a pedestrian square, will overlook the waterfront on Vicarage Road.
Mark Fenwick, owner of Bentalls and Chairman of Fenwick Ltd, said: "It is very much part of the Kingston masterplan. Permission to go ahead and turn it into an attractive, high-quality residential development will transform this part of the riverside; offering exciting opportunities for local businesses, and generating a significant number of jobs.
"The Arts Quarter will provide galleries and areas where local organisations can showcase art, sculpture, fashion and digital media projects; as well as a public space, a café and restaurant and terraced-areas for everyone to enjoy."
The plans were accepted after Fenwick Ltd topped up their original £266,000 offer to £500,000 as the council didn't feel they were getting a substantial enough contribution to the affordable housing in the area.
Although the plans were approved there was some unrest in the council ranks.
Commenting on the increased offer, Conservative Councillor Patrick Codd said: "I think they think they're talking about they're building new properties in Biker, Newcastle rather than Kingston upon Thames.
"Four hundred yards from where I live houses are going for £6.5 million and they're talking about building a couple of houses in Tolworth for less than 500,000 quid.
"This is an excellent site, this is really gold.
"We're just giving it away."
However the development's approval passed five to three.
Managing Director of Grace Lea Associates, Giles Sequeira who is overseeing the development, stressed the significant financial contribution being given in the creation and delivery of the new public space.
He said: "This has been negotiated with officers and audited by Kingston's independent advisers.
"There will also be a mechanism to review the level of contribution closer to the completion of the scheme."
Conscious about the space already available for arts in Kingston, Lib Dem Councillor Chrissie Hitchcock for Grove Ward asked the applicant to consider giving The Arts Quarter to heritage.
Mr Sequeira said that heritage was included in their arts strategy. "The intention is to provide a constantly changing display space celebrating the best that Kingston has to offer."
If all goes according to plan the construction will begin in six months.
The team from Grace Lea Associates, who all live locally, were responsible for the Turks Boatyard project that has now been completed.
Image courtsey of Grace Lea Associates