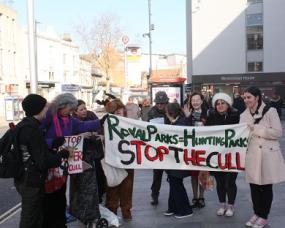 The bi-annual deer cull started at Richmond Park last night, despite opposition from local activists who marched into the town centre at the weekend and collected signatures in front of the gates of the Royal Park yesterday evening.
About a dozen protesters, armed with placards that said "Culling is Killing" and "Stop the Bloody Killing" marched into Richmond on Saturday morning to raise awareness about the deer cull in Richmond and Kingston parks, which they say kills about 200 deer every year.
According to activists, the sale of culled deer meat to local butchers earns the Royal Parks £35,000 a year. They believe this is the real reason park authorities are unwilling to look at other options to curb the deer population.
Milda Bandzaite, who led the protest, said: "We believe that all animals deserve a life. They deserve to live and not just be killed for profit. Royal Parks say that they [the deer] are overpopulating, but experts say that deer is a species that can control itself. When you start culling them, they breed more and more."
A Royal Parks spokesperson said: "Richmond Park is an enclosed space with only enough grazing to sustain a finite number of healthy animals.
"If the cull did not take place then deer would suffer as a result of overcrowding and malnutrition, leading to starvation and death.
"The Royal Parks' policies on managing deer have been reviewed and agreed by the British Deer Society and other welfare organisations, and follow industry best practice to ensure that the herds remain healthy."
Ms Bandzaite was not in agreement: "We feel that they need to consider the alternatives, such as spaying, neutering or using contraceptions like they are doing in the United States.
"The Royal Parks are the perfect place to do a trial and could be used later everywhere in the country."
The spokesperson said: "In consultation with our veterinary advisor, however, we are carefully monitoring the worldwide development of technology to limit deer populations and will continue to keep our policies for the management of deer under review."   Protestors outside the gate yesterday night were resigned to another year of the deer cull, but hope that their efforts will mean that the future will be different.   Julian Weisman, one of the activists, said: "There are laws in the sixteenth century that are not in place any longer because they don't make sense.   "I can only hope that when we look back on this deer cull 20 years from now, we think that it was just as barbaric and absurd."   Do you think the deer should be culled? Let us know @CourierKingston or find us on Facebook