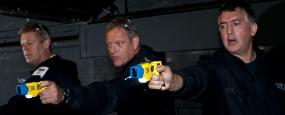 The number of times Tasers were drawn by Kingston's Metropolitan Police Service increased dramatically between 2011 and 2012.
Information revealed by a Freedom of Information request shows that only two incidents involving Tasers occurred in 2011 compared with 32 incidents in 2012.
Jenny Jones, the Green Party's London Assembly member, who obtained the figures said: "The Metropolitan Police have some explaining to do.
"Their argument for the Taser roll-out was that it would prevent many injuries to officers, but given such a large rise I worry that they might be using Tasers when they would normally defuse situations by more peaceful means."
This rise reflects a London-wide trend as incidents involving tasers rose from 378 to 713 across London between 2011 and 2012.
The rise is likely to have been caused by an increase in the number of officers carrying Tasers as they were first introduced to Kingston's police force in June 2012.
In most of these incidents, the Taser was not actually fired, only once in 2011 and twice in 2012, but Ms Jones said this was a problem in itself.
"The dramatic increase in the number of times officers are drawing this weapon but not firing it, makes me worry it is being used too readily to force people to comply or face being tasered."
A spokesperson from Kingston Police said: "The Taser is a valuable tool in reducing the risk of harm to the police, violent offenders and other members of the public."
She continued: "It provides distance in potentially violent incidents and, in the majority of cases where the Taser is drawn, the mere presence of it defuses the situation and prevents injury."
Image Courtesy of Rex/Jason Bye