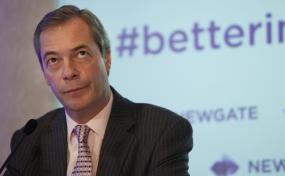 Kingston councillor Liz Green has publicly criticised UKIP leader Nigel Farage on Twitter.
The Lib Dem councillor's comments came after Mr Farage said that having children could harm a woman's career in the city.
Cllr Green, head of Kingston council, said: "Can't believe UKIP leader's comments – women with kids worth less than men! Hope everyone tells him where to shove it at Euro elections."
Speaking on BBC Radio 4's The World at One, Mr Farage denied women were discriminated against in the workplace, but added those at the top tended not to have families.
Reflecting on his time working in a brokerage firm Mr Farage noted that he would hire those who could bring in the most commissioned business.
He added: "People who bring in commission business are people who've worked very closely with clients, over years and years and years.
"If you have children and take nine months, or a year, or maybe more off, you tend to lose some of that business."
The interview rounds off a bad week for UKIP after party member David Silvester was criticised for blaming the UK's recent flooding on gay marriage.
Image courtesy of London News Pictures/Rex