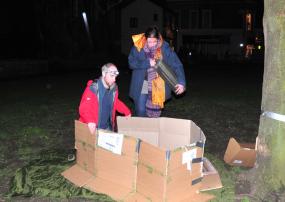 A couple will return to Kingston's YMCA charity event for the homeless for the third year running to raise awareness and celebrate their second anniversary.
Neil Bond and Catherine Freeman met at a Kingston YMCA Sleep Easy fundraising event in 2012, got engaged a year later at the same event and will return as a married couple for Sleep Easy 2014 on January 25.
The newlyweds, who were married in October 2013, said: "We will take part at Sleep Easy again this year because we want to do what we can to help.
"Also, we want to invite our friends to join us on this night that has come to mean so much for us."
Sleep Easy's fifth event will be held simultaneously at the Memorial Gardens in Kingston and outside Holy Trinity Church in Wimbledon on January 25 2014 at 7pm to support the growing number of homeless people in the area and the motto: 'sleep rough so others don't have to'.
Figures released by homeless charity Kingston Churches Action on Homelessness last year estimate that 20 to 30 people are sleeping rough in Kingston at any one time.
The organisers expect up to 250 people to sleep in cardboard boxes for the event, which includes beanie hats, hot drinks, soup, breakfast and special musical entertainment in Kingston.
Both Neil and Catherine hope to be sponsored for their third night sleeping rough together, to help raise funds for a new night shelter.
Neil said: "Last year when I attended the event I proposed to my wife, I don't know how I will trump that!"
Catherine, of that special night last year, said: "It was four in the morning, and we had decided to give up the cold and dark and go home.
"Then all of a sudden, Neil knelt down and produced a ring box from inside his anorak and asked me to marry him. I said, 'Yes, but please get up out of the mud!'"
For details on how to sponsor the couple go to Neil's page http://www.ymcalsw.org/Fundraisers/neil-bond or Catherine's page http://www.ymcalsw.org/Fundraisers/cat-freeman and follow the details.
For more information about how to sign up to the £10 event starting at 7pm January 25 and finishing at 6am January 26, visit the YMCA website http://www.ymcalsw.org/join-sleep-easy-2014.
Image courtesy of YMCA LSW
Latest posts by courier reporter
(see all)