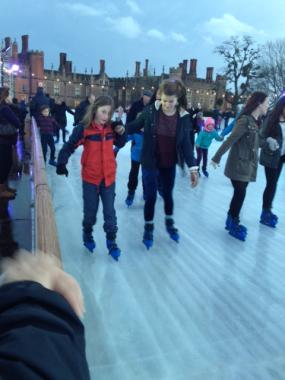 Santa's present to young carers this Christmas was a chance to go ice skating at Hampton Court and a trip to the circus.
A group of 51 young people from The Young Carers' Project were treated by Surbiton Farmer's Market to a session of ice skating, a dinner at McDonalds and a hot chocolate to warm up after all the fun.
Another group of 20 "very excited" under eight year olds went on a trip to the circus at Chessington Garden Centre where the Shetland ponies were especially popular.
Co-ordinator of The Young Carers' Project, Diane White, said: "They [the young people] enjoyed feeling special and spending time with their friends.
"Peer support is an extremely important part of what we offer.
"Particularly in the younger ones' sessions, staff had one to one time with quite a few.
"It was lovely for them to share their pleasure but also their concerns from home.
"We are extremely grateful to Surbiton Farmers' Market for their generosity; it was truly an evening our young carers will always remember."
The money was raised by fundraising activities at Surbiton Farmers' Market on December 21. Santa's little helper, the Giggly Pig, of Surbiton Farmer's Market, contributed £1 for every serving from its Hog Roast.
The Young Carers' Project supports 5-18 year olds who have a caring responsibility for a family member.
Surbiton Farmer's award-winning market has raised more than £30,000 for local charities and causes since it began in 2009.
On February 15 they will be celebrating their 50th market with some special events.
Image courtesy of The Young Carers' Project.