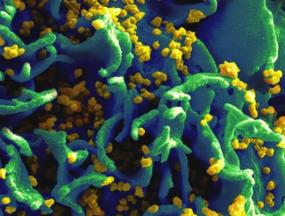 Richmond council will provide free HIV tests at local hospitals during National HIV Testing Week from November 22 to 29, in a prelude to World Aids Day on December 1.
West Middlesex, Kingston and Queen Mary's hospitals will offer walk-in confidential appointments, with results in 20 minutes.
Christine Percival, Richmond Council Cabinet Member for Health, said: "Many people are put off by HIV testing and are scared about waiting for the results. With the new tests, results are given in 20 minutes, which makes it much less stressful and the services are fast and confidential. I would encourage people to get tested."
About one in five people with HIV do not know they have the virus, despite a national rise in the amount of people receiving medical care.
In the last four years Richmond borough has reported a 40 per cent rise in the number of people diagnosed with HIV.
Dr Dagmar Zeuner, Richmond Council's Director of Public Health, said: "Over half of all HIV transmission is thought to be due to people who are not aware of their HIV status. People who are aware of their diagnosis can access effective treatment which not only greatly improves their health, but also reduces their chances of infecting others."
During National HIV Testing Week, local services will also provide information and advice to people in need.
For general information about sexual health services including HIV testing, please visit www.swish.nhs.uk or call the Sexual Health Line Free Helpline 0300 123 7123 (Mon – Fri: 9am – 8pm and Weekends: 11am – 4pm).
Images courtesy of REX/Cultura