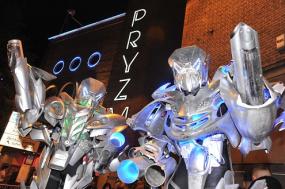 Nearly 2,000 people stood in line excited to walk through the doors of the £1m revamped hotspot Pryzm nightclub on Clarence Street, Kingston.
After 10 years as Oceana, the Kingston club closed after a man was stabbed to death in 2012. The grand opening on November 15 created 40 new jobs in the process.
General manager Dan Corry said: "The weekend was a total sell-out and a huge success."
The sold out festivities began at 9pm with giant illuminated robots outside amusing everyone waiting in the long lines and people passing by the club.
People seemed pleased with the biggest reveal of the night, Curve Bar, which offered a tasteful food menu for the first time.
The over 21 Curve dance room had luxury booths with table service by members of staff wearing new uniforms.
The upstairs main room, aside from a great mix of music, introduced a performance that included fire and fog by two giant robots which excited the crowd.
Sam O'Donnell, clubber, said: "Great night out, love the refurbishment and superb launch."
Mr Corry plans to build on the positive feedback over time from customers to provide memorable experiences for the other eight Oceana nightclubs soon to be re-launched as Pryzm.
Image courtesy of Pryzm