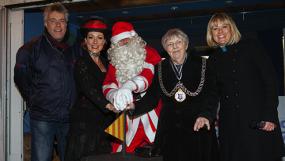 Holiday shopping season arrived in style to Kingston Town Centre last week, when Santa and The Snow Gorilla cast members switched on the Christmas lights.
James Kennedy, Commercial and Marketing Director of KingstonFirst, was delighted with the outcome of the event. He said: "We predict it was our busiest one yet."
Crowds gathered to watch The Champs perform body binding acts and a wire walker complete a daring stunt.
Families also had the chance to visit live reindeers and Santa's grotto.
The crowd grew and the Radio Jackie stage remained busy with games for children and a performance by Kingston Spotlight 2013 winner, Lili Caseley.
Novena, 38, and her daughter Vyvienne, 5, are new to the area and had a good time at the event.
Vyvienne with her butterfly face paint said, "I can't wait to see Santa."
Seconds before 6:00pm, the Radio Jackie host and shoulder-to-shoulder audience began the countdown from five to one. Loud cheers filled the air once Santa pushed down the lever and all the Christmas lights shined throughout the centre.
Along with the circus entertainment, several vendors in the Night Market showcased their best holiday gifts like bamboo mobile cases, sweet treats, pop-up event cards and a women's jewellery.
As a representation of the start of the shopping season, the Night Market will remain open every day until December 24 from 9:30am until late.
The party and shopping continued and most people left saying that they cannot wait to see what happens for New Years.
Image courtesy of KingstonFirst