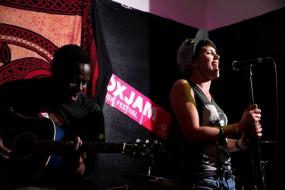 This Saturday, Kingston will be taken over by a new live music festival for a good cause.
Oxjam Music Festival, the Oxfam music initiative, is launching for the first time in Kingston this year.
The festival, which started to create events all over the country in 2006 to raise money for charity, is adding Kingston to their list this year.
At Kingston, the 46 artist line-up includes Isla, Foxtrot Darling and Mayflys, who will perform in several different venues this Saturday.
OxjamMusic Festival will swap tunes for donations in an event that organizers hope will raise £6,000 for Oxfam.
Romeo Kabanda, volunteer coordinator of this year's event in Kingston said: "We've had a few fundraising activities over the past few months which raised nearly half our target so hopefully we'll be able to achieve our target this weekend."
According to Mr Kabanda, there isn't a music festival like this anywhere. "People should come to Oxjam Kingston this weekend to show their support for Oxfam's aim of finding a lasting solution to global poverty and injustice," he said.
The venues for this Saturday in Kingston are The Grey Horse, The Fighting Cocks, Kingston Working Mens Club, Nº 88, The Cricketers and O'Neills.
Tickets can be purchased in advance for £4 or £5 on the doors.
Image courtesy of Oxjam Music Festival.