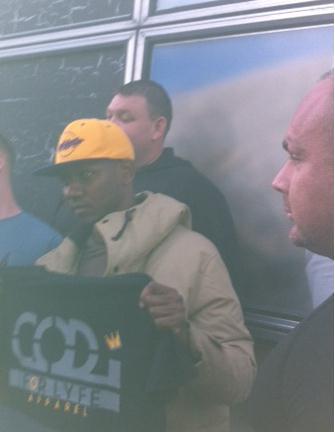 Rapper Nathaniel 'Giggs' Thompson, 32, met fans outside HMV Kingston even though his signing had been cancelled because of his connection with gang violence.
It is not the first time that Giggs has seen events to promote his new album cancelled. A few days earlier he tweeted: "So Westfield doesn't want me in their building tomorrow, so they've cancelled my HMV signing. I'm sorry everyone, I don't know what to say.''
On Wednesday Giggs and hardcore fans turned up at the Bentall Centre to protest against the cancellation.
He shared his gratitude to all those who attended by tweeting: ''Thanks to everyone that came down to Kingston, I appreciate you coming down and standing in the cold. That's real love''.
The rapper said he will continue to promote his new album When Will It Stop throughout the UK, including at an upcoming event in Manchester.
The Peckham-born rapper, who is known for the two critically acclaimed albums Walk in da Park and Let Em Ave It, has street violence in his past.
On February 10 2012, The Guardian reported that police officers found a loaded semi-automatic gun inside a car where Giggs and several friends were present. All were charged with possession of a firearm, but Giggs was later proven not guilty. His future, however, has taken a hit, with future live shows and signings being cancelled around the UK.
The rapper has spoken out on Link Up TV: ''We are not going to be pushed around by anybody, I'm not going to be coming on camera everyday apologising and ruining people's days."
There is no indication if future events will be cancelled by the police, but the rapper is continuing to promote his newly released album around the country.