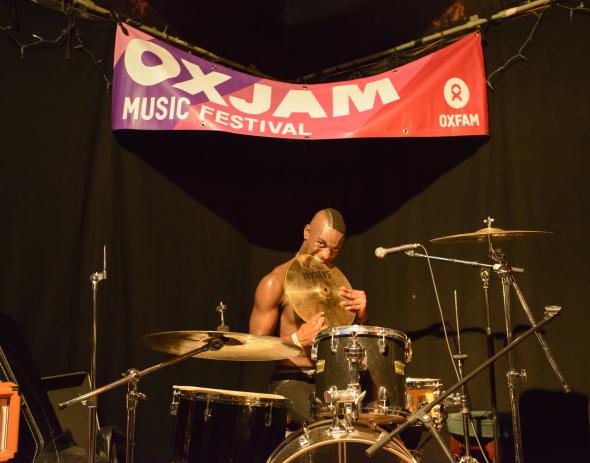 Kingston was turned into a mini rock festival on Saturday night as Oxjam took control of six pubs and bars in the area.
A total of 46 artists and bands came together from all over the city of London to play music for free in the name of Oxjam.
Things kicked off early at O'Neill's Bar and Grill near the Kingston market. A warm atmosphere of hot food, cold beer and jolly folk music brought a wide range of people together, from families to students and even a toddler who was break-dancing in front of the stage.
Naomi Hoad, one of the events organisers for Oxjam said: "This event is really positive, it brings people from all ages and backgrounds together for a good cause."
Each of the six venues spread across Kingston showcased a different style of music, from contemporary folk to heavy rock metal, and this opened the doors to a wide range of people.
The Fighting Cocks, on Old London Road was another of the six bars involved in Oxjam. In contrast to the family folk scene at O'Neills, here the bold sounds of heavy metal reverberated around the room and long bearded rockers with tattooed necks gathered in their groups.
Across the park and outside The Cricketers bar on Fairfield road a group of young people were collecting funds for Oxjam. Upstairs a young crowd gathered around a man with an eye patch, covering No Diggity by Dr. Dre, with a banjo. The spirits were high and Oxjam stickers could be found stuck to garments of all descriptions.
Into the night and the festival was in full swing at The Grey Horse on Richmond Road. The bar crowded and the performance room packed with people eagerly anticipating the indie rock-band Ambervision to begin their set.
The crowd were not disappointed as the band delivered a banging performance reminiscent of an old Incubus style, that had groups of pretty young girls dancing as they goggled at the half naked drummer who smashed his symbols with vigour.
Events organiser Sarah Mikowski, beaming from the success of the night, said: "I think it's awesome, it reminds people about local music and at the same time raises awareness of global poverty."
After swinging around Kingston from bar to bar, it seemed every venue had something different to offer and as a result people came from all ages and backgrounds to donate to the cause.
Oxjam Kingston have organised a number of fundraising events over the past month with the ambition of raising £6,000 to aid poverty and injustices around the world. At Oxjam, their slogan "Make Music Change Lives" really came into effect on Saturday night as people poured into pubs and bars all over Kingston, donating money without hesitation.