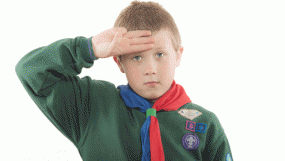 After a 10-month consultation, The Scout Association has announced the introduction of an additional alternative atheist version to the core scout promise.
From January 1 2014, the alternative version of the scout promise will be made available to the collection of scout groups which make up the Royal Kingston Scout District.
Alongside the core scout promise which remains unchanged for 106 years, scouts will now be able to promise to "uphold our scout values" instead of promising "to do my duty to God".
Wayne Bulpitt, UK Chief Commissioner for TSA said: "Throughout its 106-year history, the movement has continued to evolve and today marks an important step in that journey.
"It signifies the determination to become truly inclusive and relevant to all sections of society."
While alternative promises for those of different faiths have been available for many years, welcoming those from Muslim, Hindu and Buddhist backgrounds, this is the first time a promise is to be made available for those without a faith.
Mr Bulpitt said: "We are a values-based movement and exploring faith and beliefs remains a key element of the Scouting Programme. That will not change."
District Commissioner for the Royal Kingston Scout District, Dave Batten said: "We are an inclusive movement and this is a response to a number of requests.
"It won't make any difference to local scouting, as individuals will be able to make the promise that suits them, whether that be the one that the majority use or one of the alternatives."
Peter Morris, Group Scout Leader of the 2nd Norbiton Scout Group said: "This is a change to make scouting more inclusive and as someone with a strong personal faith I welcome it.
"Following this change [scouting] will continue to include the exploration of beliefs and values of all religions.
"The most important thing for scouting at the moment is to attract more adults to volunteer to help as most scout groups in the Kingston area are unable to accommodate all of the young people who currently want to join. If the new alternative promise removes a barrier to adults joining then this can only be a good thing."
Image courtesy of Rex Features