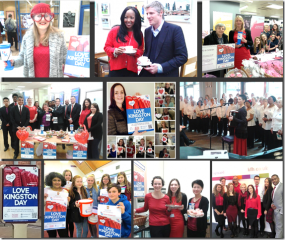 A fundraising appeal for vulnerable people in the Kingston area raised over £4,024 in just one day.
Love Kingston Day, the borough-wide event on February 14, saw companies including BHS, Colemans-ctts solicitors and Kingston Chamber of Commerce do their bit to run coffee mornings, comedy nights and raffles to total over 23 events.
Elaine Miller, fundraising manager for Love Kingston, said: "What an amazing day – we were delighted to see so many businesses, groups and individuals support Love Kingston through one special day of fundraising.
Ms Miller was delighted with the range of activities on offer, and added: "We had great fun running all over town taking pictures of everyone taking part, from making collections at local stations, to coffee mornings, meeting the Mayor, Penny Shelton at BHS Kingston, the Euphonix Choir singing Love Songs, staff at Colemans-ctts solicitors dying their hair red, and men waxing their legs, to comedy in the evening at The Willoughby Arms to live music and a lucky dip meal at Rich Man, Poor Man."
The Valentine's Day fundraising drive coincided with the now infamous storms causing flooding in the area, but organisers were nonetheless pleased with the support they received.
Charlotte Salaman, of The Canbury Arms, whose event saw visits from MP Zac Goldsmith and TV personality Angellica Bell, said: "Despite the wild weather we were delighted and bowled over by the support our customers demonstrated at the Love Kingston coffee morning at the pub.
"Their generosity is overwhelming, and we're thrilled that they backed the event as much as we hoped."
Due to ongoing activities and the vast number of events that took place, Love Kingston are still receiving donations and, since Kingston Legacy Fund, who are receiving 50% of the total, are offering a 50% match on donations, the final total looks to be huge.
The organisation's chosen charities to receive the other half of donations are Hestia, Kingston Foodbank, Kingston Churches Action on Homelessness, Kingston Savers, and Oxygen, who all work on "pathways out of poverty".
The organisers hope that the total proceeds, after match donations and all proceeds are sent in, will add up to £100,000.
Image courtesy of Love Kingston