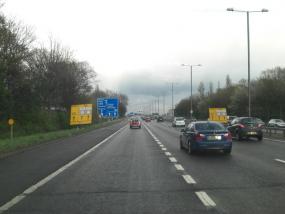 Two men were sentenced to nine months in prison and handed a two year driving ban for dangerous driving on the M4.
The men, one of whom is from Twickenham, remained silent as the judge delivered his scathing verdict on Friday at Kingston Crown Court.
Mr Stephens Masters, 46, of 37 Garrick Close, Ealing, W5, and Mr Gagandeep Takhar, 25, of 29A Staines Road, Laleham, Twickenham, TW18, will both have to undergo a further driving test to replace their licence and pay a surcharge of £100 each.
The Judge, Peter Lodder QC, summed up by saying that it was lucky no one was hurt as the drivers used the M4 like a "race track".
He said: "Your driving was clearly dangerous and you were rightly convicted by the jury.
"Whatever the cause, you each over-reacted to a ridiculous degree."
The Judge went on to say how the driving, if not so serious, was "childish in the extreme".
"You chose to drive in the manner I have described."
The incident took place on December 12 2012, eastbound, between Junctions 4 and 3, when the two men began shouting at each other from inside their cars while driving at high speed down the M4.
The altercation came to an end when the two cars collided, with one spinning around and skidding into the centre reservation.
During mitigation, both defence counsel pleaded with judge to only hand out a suspended sentence.
However, as both men had pleaded not guilty, the judge saw no reason why they should not go to prison.
Mr Christopher Martin, representing Mr Masters, said that prison would be "nothing short of catastrophic for his family", suggesting he would have to sell his house.
"He is a family man [who] goes to work and provides for his family.
"This was not a pre-planned act – it was completely reactionary."
The defence also spoke of how Mr Masters was an upstanding citizen and held in high regard.
Mr Dominic Cox, representing Mr Takhar, described him as a "gentle man", who was "petrified of going to prison".
He said: "He is a very very frightened young man.
"He says it is quite impossible to ever be in front of the courts again."
Mr Masters' wife began sobbing at the back of the court as the sentence was delivered and Mr Takhar's dad, who had been present throughout the whole trial, looked on in silence.
Image coutesy of Stuart Logan